By integrating tools into your website you get to control the relationship between third-party software and your website, customising the tool to suit not just your needs, but your users' too.
Why integrate?
Consistency
Every platform looks different, each one has different options for customising your front-end portals. You might be able to get some looking more or less exactly like your website's front end, but sometimes you'll be stuck with logos or styling that makes it incredibly obvious that you've just passed a user to a third-party platform.
Why is this bad? Well, once a user is on a third-party site, it can be difficult to control the user journey. It can be confusing, introducing new UI elements that aren't present on your main site. You might even feel that these elements compromise your brand integrity.
Trust
Perhaps more importantly than any of the above, diverting users to an external site can damage trust. Can a user be sure that the platform you've sent them to is secure enough to make a payment? Or will it panic them into giving up on the whole thing altogether?
Convenience
Everything in one place! Integrations mean far less logging in to different systems to do everything – both for you and your users. Less manual data entry, much more automation. It saves you time, it connects the dots.
Reporting
If your customer or user data is spread across a range of platforms, it's much harder to take a holistic view of performance. Integrating systems and ensuring data is tracked and recorded in the same way can massively improve what you know about your users, and about yourselves.
What kind of software can you integrate?
CRM
CRM systems are probably the most commonly integrated platforms. Collecting user data is essential for lead generation and engagement, so connecting your website's forms directly to your CRM means you won't need to download a spreadsheet of submissions once a month and input them manually. Some CRMs, like HubSpot, will also allow you to visualise how specific users in your database are using your website on a day-to-day basis, which is absolutely invaluable.
Analytics software
The most commonly used analytics platforms are Google Analytics and Google Search Console – these are incredibly easy to integrate, giving you live data on website activity and search performance.
Box office
From highly specialised theatre and arts box office software like Spektrix, Tessitura, or Ticketsolve, to out-of-the-box solutions beloved by community events promoters and small venues like Eventbrite and TicketSource, there are loads of box office platforms that can be integrated into a website in different ways.
Some use APIs (more info below!) to bring the booking experience directly into the site, while others will pass you to an external platform to handle the bookings – how a specific platform does this is a big question to ask any prospective box office software provider!
Email
Much like a CRM, linking your website directly to an email marketing platform like Mailchimp or Campaign Monitor makes for a much smoother and controlled experience than passing users out to external forms, and a much more automated workflow for your team.
Ecommerce
There are as many ecommerce platforms as there are CMS options, and they all talk to each other in different ways. Often a CMS will have a recommended ecommerce partner, such as WordPress and WooCommerce.
Integrating your ecommerce platform allows you to build the buying journey directly into the website, and maintain the trust that can be easily lost the instant you pass users elsewhere. It also lets you view your sales data in relation to your web traffic in a much more connected way.
Donations
Donation platforms typically combine elements of ecommerce with elements of CRM systems. Properly integrating your donation tools into your site, rather than diverting people to external links, allows you to bring donations fully into your site's user journey – prompting people to donate at various points, even as part of a larger purchase.
Social media
Social media integrations are typically limited to displaying feeds directly on your website. But this is still a great way to ensure your website consistently updates with fresh content – and a proper integration can look much better than an out-of-the-box embedded feed.
But that's not all…
So many types of software or platform can be integrated into a website if your developer knows what they're doing! We've integrated property portfolios, quote tools, podcast platforms, and more besides.
Types of integration
There are a few different ways that external third-party software can be integrated with a website CMS, depending on what the third party provides, and what your web developer thinks will be the best approach.
API-driven
API stands for 'Advanced Programming Interface'. It's an interface that allows two systems to talk to each other. Through the API, the third-party software is essentially opening its doors and allowing your web developer to request, interpret, and transform data in a way that the website understands.
Most software providers want their product to be widely used, so they'll make their APIs available to all who need them and ensure they're as easy as possible to connect to. Typically, when we come across a new platform to integrate for the first time, the first thing we want to know is if there is an API.
There's still a fair bit of bespoke work involved with API integrations – the web developer will need to interpret the relevant data in the API and present this in a suitable way on the site.
Plugins
A lot of website platforms – whether it's WordPress, Drupal, Joomla, or what have you – work in partnership with third party software providers to create plugins that take most, if not all, of the bespoke development out of the integration.
The plugin is built with an understanding of how both sides work, so connects everything in the background, leaving website managers with a handy, code-free visual interface. If you know what website CMS you want to integrate with, it's always worth looking to see if there's a plugin for it.
Some are paid, some are free but lock more in-depth integration features behind a paywall.
Zapier
Zapier is a piece of workflow automation software that has developed integrations with thousands of third-party software providers. It also provides plugins for leading CMS systems – so if there's software that doesn't have a WordPress plugin, for example, but does integrate with Zapier, it acts as a middleman so you won't need bespoke development.
Bespoke integrations
If there isn't an API or a plugin, and even Zapier is off the cards, there will need to be an element of bespoke integration. This can often mean your web developer will work directly with the software provider to develop an API, or they will use universally understood languages such as XML feeds or CSV files to pass information between the two platforms.
What's the best type of integration?
A custom API integration gives you amazing levels of control over what data is passed where and when – but this web development will cost you more than it would to install and license a plugin.
Plugins are usually pretty quick to set up, but generally try and cover all bases for an integration and will most likely include features you don't need. This contributes to bloat on your website – extra files doing things you don't need – and far slower load times.
What to ask your software provider
It's worth asking the developer of the third-party software whether they have API capabilities and documentation – this is likely to be the first thing your developer will ask for – or if they have an established plugin for your preferred CMS (if you have one).
It's also important to know who your account manager is at the software provider – it's likely there will be times when your developer will need to talk with them directly to iron out any issues with the integration.
What to tell your web developer
Generally, we like to know what third-party systems you use (or want to use), and how you use (or plan to use) them. The more detail you can give, the better. We've received briefs in the past that don't say much more than "we'd like a Spektrix integration, please" but tell us nothing about how Spektrix will be used.
If you're not sure how you'd like to use your platform – perhaps because it's new, or you're not sure if you're using it to your full potential – it's okay to ask! Any good WordPress integration developers will either have enough experience with the software to provide recommendations and find solutions.
Any questions?
In our 15 years as a digital agency we've done countless WordPress integrations with a wide range of platforms, so we like to think we're pretty clued up on the whole thing. If you'd like some advice or guidance – or maybe have a planned integration you'd like a quote for – just get in touch!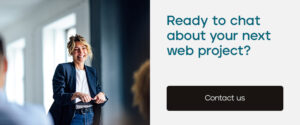 Continue reading...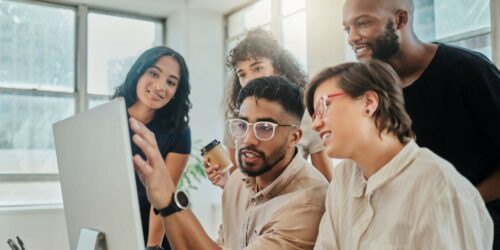 Improving your brand's accessibility 
Accessibility is at the heart of everything we do. As one of our core values, we make it a priority when designing websites and branding.
Sign up to our newsletter