There are many ways you can be an ally, whether it be for your colleagues, customers or friends. This support goes a long way – and it's more than just throwing rainbows into your feed.
If your business has a social media presence it's important to think about how your marketing strategy is influenced by important topics, events and issues. Last month it was Pride Month, and at Splitpixel it was important for us to encompass our values, thoughts, feelings and support for the LGBTQ+ community.
I'm sure most of you will know what Pride Month represents, but if you don't, here's a brief overview:
Pride is celebrated throughout the month of June and is a celebration of people coming together to show support and solidarity for how far LGBTQ+ rights have come since The Stonewall Riots in New York in 1969. The Stonewall Riots marked the turning point for LGBTQ+ rights in America and similar movements around the world.
So what does this mean for my social media?
Social media marketing has quickly become the most effective tool for targeting a wide and diverse audience, with TikTok, Instagram and Twitter combined. If you're wanting to shout about your support for the LGBTQ+ community, this is where you're going to want to do it.
Pride month has been celebrated on socials for years, however more recently (and rightly so) there's been more of an expectation to not just show up, but to also 'put your money where your mouth is'.
'Rainbow capitalism' or 'rainbow washing' are terms used to describe the way brands just use a rainbow across their websites, email marketing and social media for exploitative reasons, and can be compared to the act of greenwashing. While intentions might be good, there is usually a lot of hypocrisy when businesses don't adopt this support all year long or where they have previously harmed or discriminated against the LGBT community and not taken steps to make up for it.
Compared to previous years, especially on TikTok, there has been an increased number of users raising awareness of the problems with rainbow capitalism, and how big companies may sometimes use Pride month to profit.
Is your brand truly an ally?
Before you embark upon your quest for an LGBTQ+ inclusive social media page, you need to ask yourself if your brand has established a genuine connection or relationship with the LGBTQ+ community.
If the answer is no, then before you dive straight in you should consider your role in being an ally before advertising it all over your socials. If you cannot directly express to your audience how you are actively involved in being an advocate, voice, or support system for the LGBTQ+ community – then you should not be benefiting from a campaign.
It's no surprise that consumers are more likely to purchase or support a brand that has directly spoken up about social issues and causes, therefore it's your responsibility as a brand to give back and speak up. Remember that there's a huge difference between community-based motivation, and brand awareness-based motivation.
How can my brand show legitimate support?
There are many ways in which your brand can take the right approach on your socials, and this stretches far beyond Pride month alone. If your brand doesn't have LGBTQ+ inclusion all year long, then you're simply profiting off a one-off Pride campaign.
Your brand can have a huge influence on competitors, stakeholders, and customers, just by educating and using your platform for change.
Here, I've listed some ways in which you can take your socials from being unengaging and generic to supportive and empathetic.
Run inclusive campaigns all year long
There are many ways in which you can run inclusive campaigns all year long, for example: employing LGBTQ+ creators and influencers in your campaigns and marketing. If you are predominantly using straight allies to promote inclusivity, then it can look like you're doing it for the wrong reasons.
Donate to the charities directly supporting the cause
Pride isn't just about parades and rainbows; it's about making a stand for what's right. If you're running a marketing campaign that is making a profit, you need to ensure that you're not just talking the talk. Below I've listed some charities that you/ your company can donate to!
Encourage your followers to donate, sign petitions and spread awareness
Social media is a great tool for educating and advocating. Why not use your platform to spread experiences the LGBTQ+ community face, amplify organisations they can donate to, and inform of petitions directly supporting relevant issues?
Share insightful content
As a brand, it's important to recognise the world around you. By resharing insightful content from LGBTQ+ creators all year round – you're directly giving them a voice.
Stay an active ally
To round up, the best way to be an ally to the LGBTQ+ community across social media platforms is to stay active. Keep pushing, promoting, and supporting those around you; and most importantly keep educated on how you can make a positive impact, not just during Pride month.
At Splitpixel, we make regular donations to Mermaids. They're a Leeds charity providing brilliant support for gender-diverse young people across the UK. We also continually educate and inform our customers, friends and followers over on our blog and socials about important issues and how to directly show support.
Here's a list of UK based charities we recommend donating to:
Mermaids – Helping gender-diverse kids, young people and their families.
Black Trans Alliance – A black queer and trans led non-profit organization that supports black trans and non-binary people.
MindOut– A mental health service run by and for lesbians, gay, bisexual, trans, and queer people.
Stonewall – Fighting for the freedom, equity and potential of LGBTQ+ people everywhere.
Hindiyah  – Supporting LGBTQ+ Muslims in the UK, the US, and the rest of the world.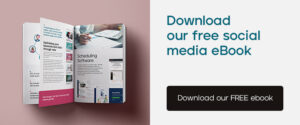 Continue reading...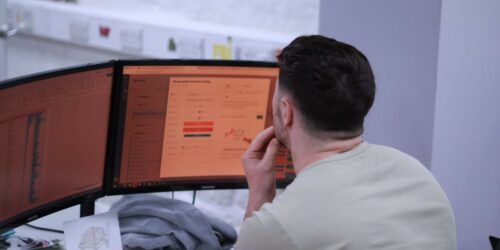 Google Ads Tips and Tricks
Want to know how to make the most out of your Google Ad Campaigns? Whether you're a seasoned marketer looking to fine-tune your Google Ads strategy or a newcomer eager to harness the full potential of the Google Ads platform – you've come to the right place.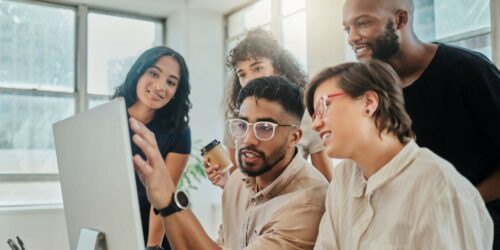 Improving your brand's accessibility 
Accessibility is at the heart of everything we do. As one of our core values, we make it a priority when designing websites and branding.
Sign up to our newsletter