The COVID pandemic put more pressure than ever before on businesses to stay ahead of the digital curve and ensure that their content is accessible to all.
As we celebrate our most recent theatre website launch with the incredible learning-disabled theatre Mind the Gap, we've been thinking about the other incredible disabled people's organisations we've worked with over the years and how much we've loved the projects we've been part of.
We were so excited to work with Mind the Gap this year. Other than the world-class theatre productions they showcase, they're incredible advocates for the disabled creatives working with them both on stage and behind the scenes. They believe that learning disabled adults should have equal opportunity to be trained, work in, and be part of the performing arts industry and we couldn't agree more.
Last year we created a new website for the disabled adults' day centre and charity, Magpies. They wanted their site to be straightforward and accessible to all of their service users and their families. This meant putting user experience at the heart of the project and creating bespoke user journeys so that service users could easily find all the information they could be looking for. Like Mind the Gap, Magpies' belief in equality for all is deeply embedded into their ethos, and this is something that really shines through for them as an organisation.
One of our key values at Splitpixel is acknowledging that there are things in the digital space that are still incredibly inaccessible for disabled people, and then actually being committed to doing something about it. Across our projects, we like to stay up to date on accessibility best practice to ensure that our websites, digital marketing, and social media can be enjoyed by as many people as possible.
As discussed in our blog 'Have you considered making your digital brand more accessible?', we believe one of the most important parts of improving digital accessibility is having disabled people involved in the creative process. As an agency that includes disabled people in its creative team, this is something really personal to us. We care about digital accessibility and are passionate about working with organisations for and including disabled people because it makes such a difference to us.
It's our responsibility to do what we can to shape the digital landscape wherever we can in order to leave things better than we found them. Of course, we're always learning new ways to be inclusive and accessible. Digital accessibility isn't a checkbox, it's a process of listening to disabled people when they say what they need and then making changes wherever you can.
The main reason we love working with disabled people's organisations is that they're incredibly passionate advocates for improving accessibility to allow disabled people to enjoy things that abled people take for granted. They share our belief that a society that includes and supports disabled people is a better one for everyone.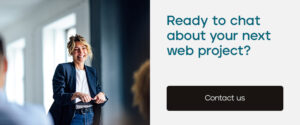 Continue reading...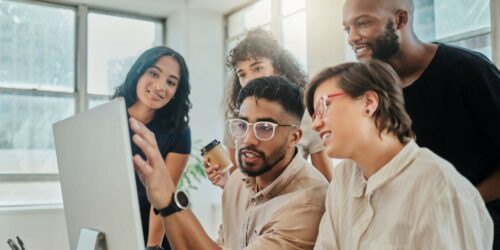 Improving your brand's accessibility 
Accessibility is at the heart of everything we do. As one of our core values, we make it a priority when designing websites and branding.
Sign up to our newsletter