Wells Maltings is an arts, heritage and community centre, as well as a non-profit organisation, in the historic seaside town of Wells-next-the-Sea in North Norfolk. The venue hosts theatre, live music and art exhibitions, and rents out their versatile multi-purpose spaces for classes, community groups and events.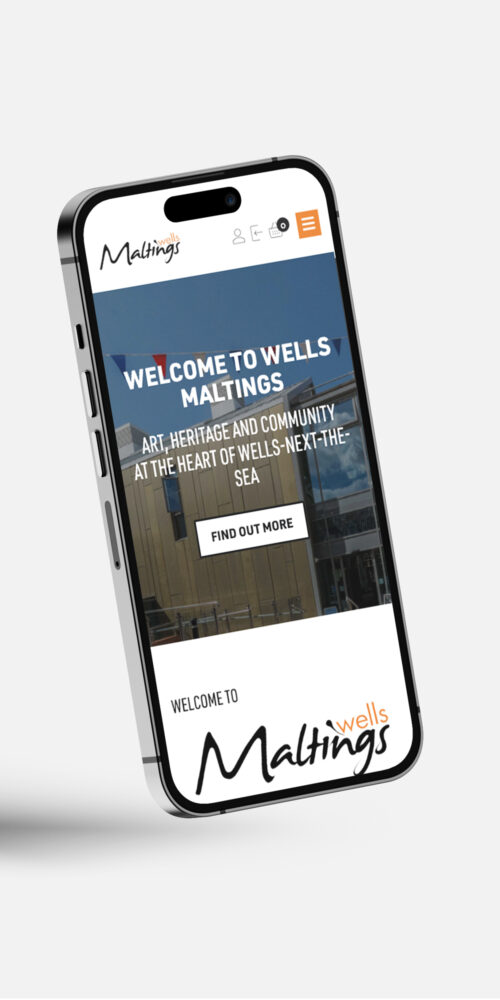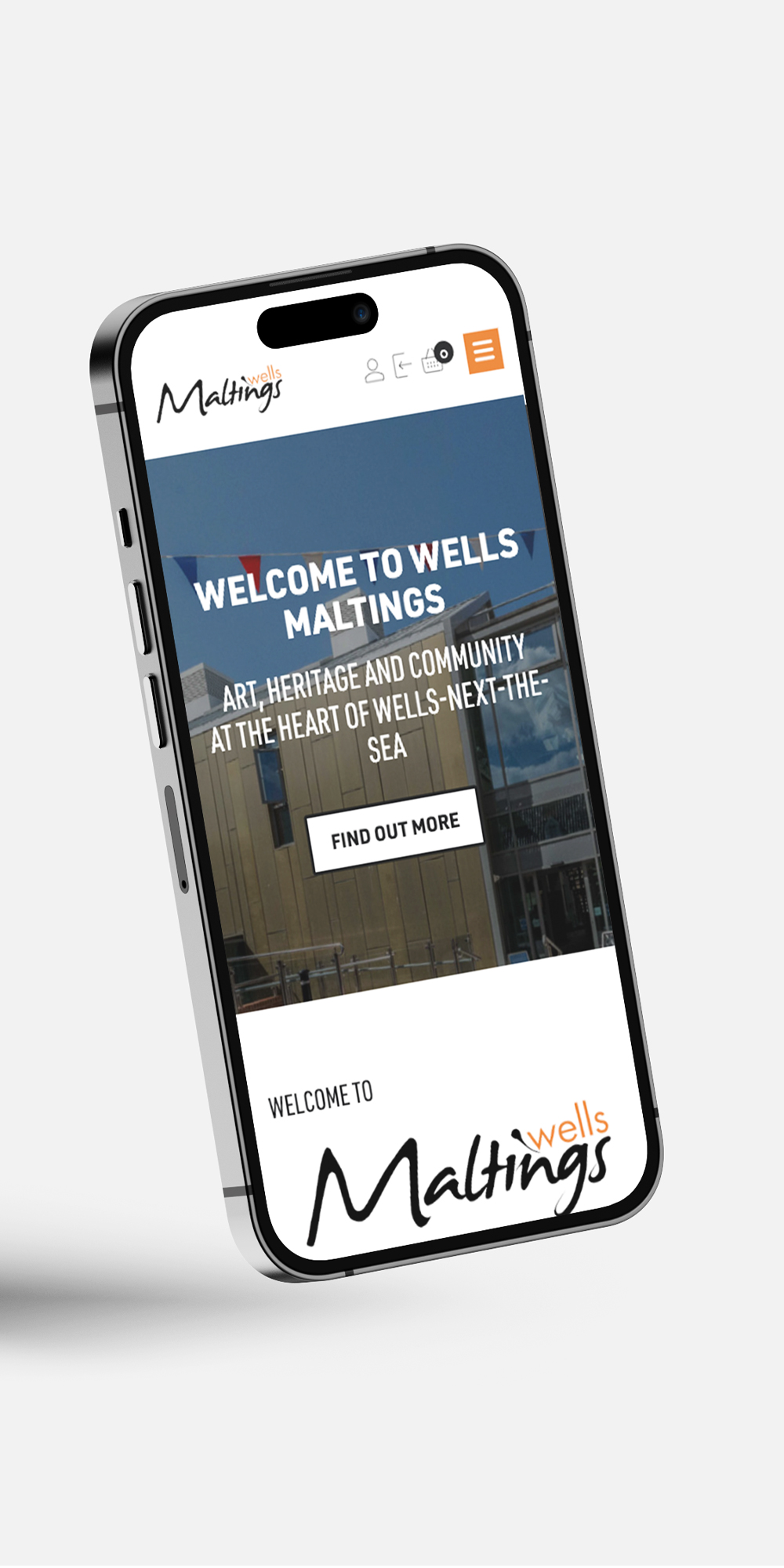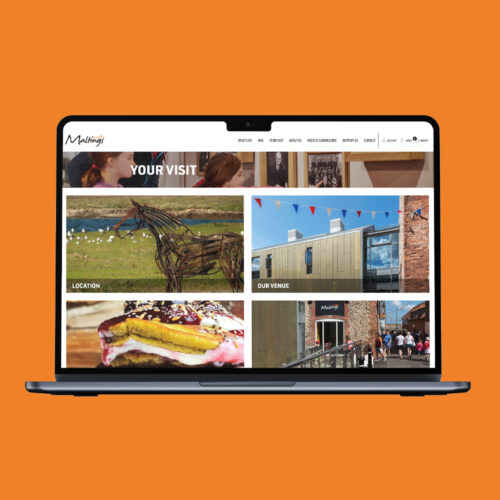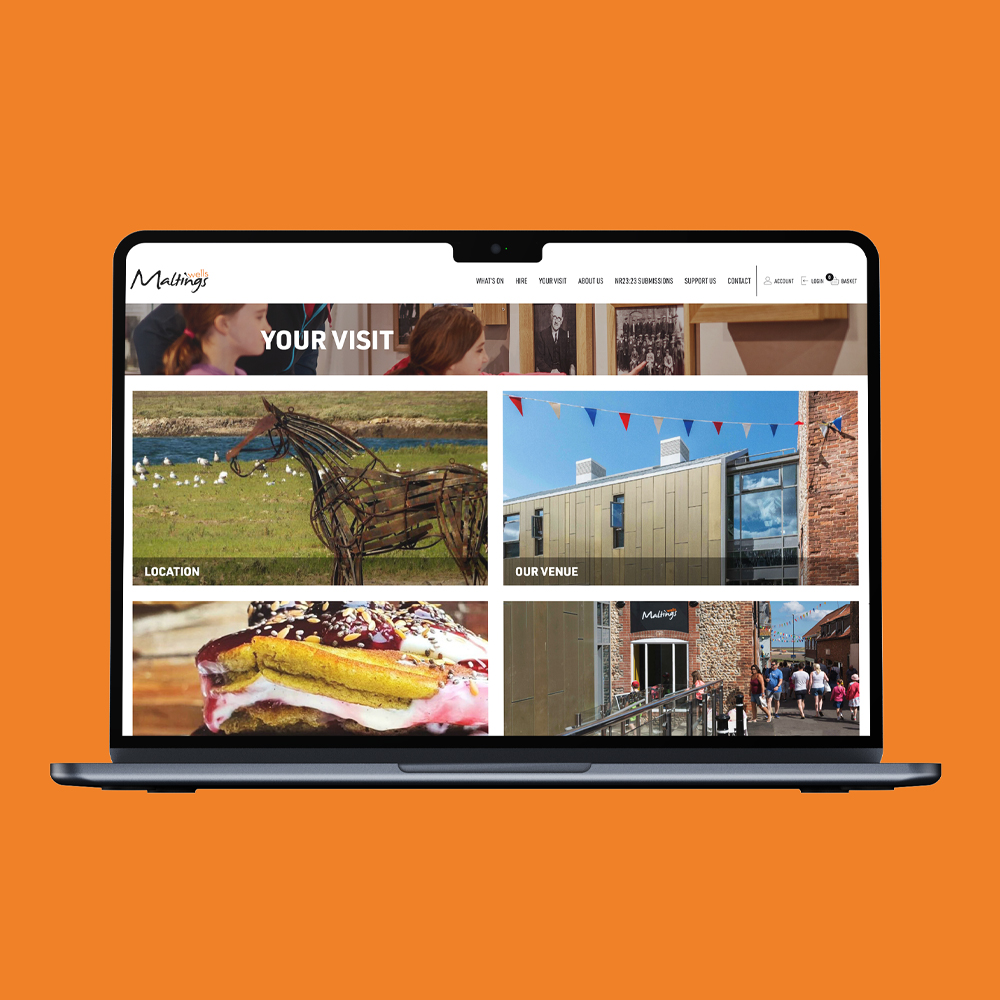 The brief
Wells Maltings were looking for a fresh, easily accessible new site with bespoke events integrations to allow them to advertise their shows, classes, and events either within or outside of Spektrix.
The team were also looking to improve their commercial enquiries as a venue for hire and wanted a site with well-optimised pages and tailor-made enquiry forms in order to deliver this.
They also wanted a site that would provide a smooth user journey for a range of audiences – from locals to show-goers to tourists – so that everyone arriving at the Wells Maltings website would be able to quickly and easily find the information they were looking for.
rise in click-through-rate
By nine months post launch!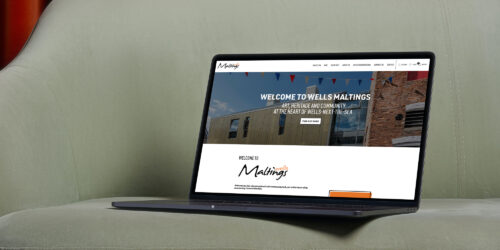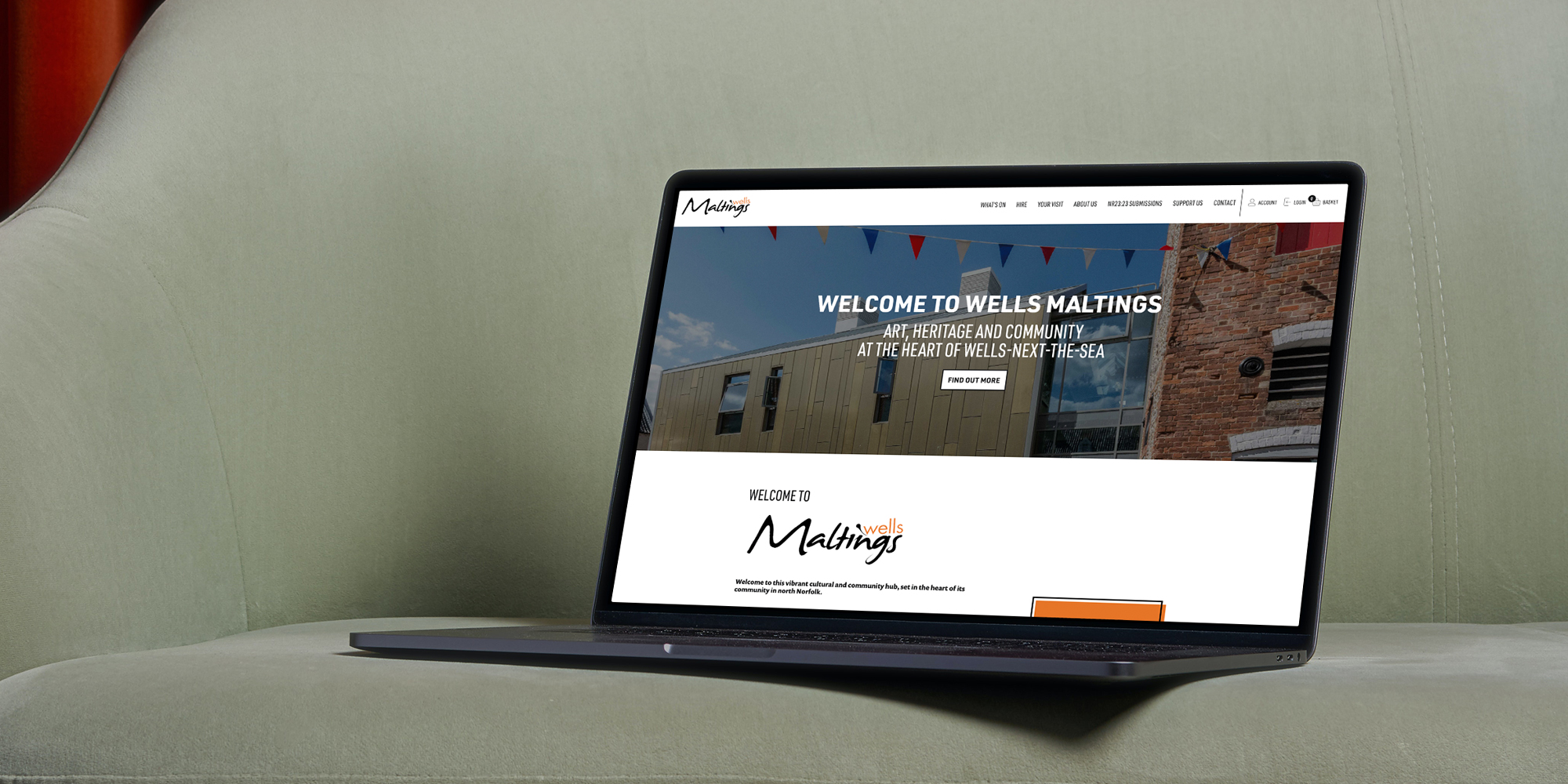 Fresh and accessible design
Our Creative Director, Rob, balanced a minimal design with bold black outlines, custom icons, and a burnt orange colour scheme. Features like these really brought the new Wells Maltings site to life and allowed Rob to design something that was simple but engaging for a range of audiences.
Accessibility was important and we didn't want to have something where style overwhelmed the needed simplicity of the site that would allow people to quickly find what they needed. Small details like full-width hero images and an auto scrolling show listing on the What's On page with an interactive hover feature makes the site pop without being overstimulating.
Search engine optimisation (SEO)
Our marketers conducted keyword research to help drive the content for the website. They wanted to help Wells Maltings find the words that would generate the leads they were looking for in order to maximise bookings for their multi-use spaces. Often, it's the small differences and the subtle integration of keywords into meta titles, alt-tags, and embedded seamlessly into copy that make all the difference.
Utilising this research, the website content will attract people from the area looking to hire spaces and, when they arrive at the site, they'll find bespoke enquiry forms to help them find out more and allow the Wells team to capture data from promising leads.
To measure the success of the project, our marketers used analytics to compare data from their old site (9 months prior to the new site design) to the website we created – and we are incredibly pleased with the results. By 9 months post-launch, the number of organic clicks to the website rose by a whopping 78.6%, impressions rose by 22.1%, and click-through-rate rose by 46.3%.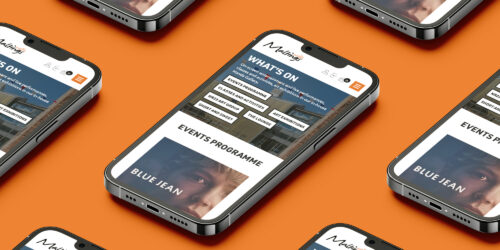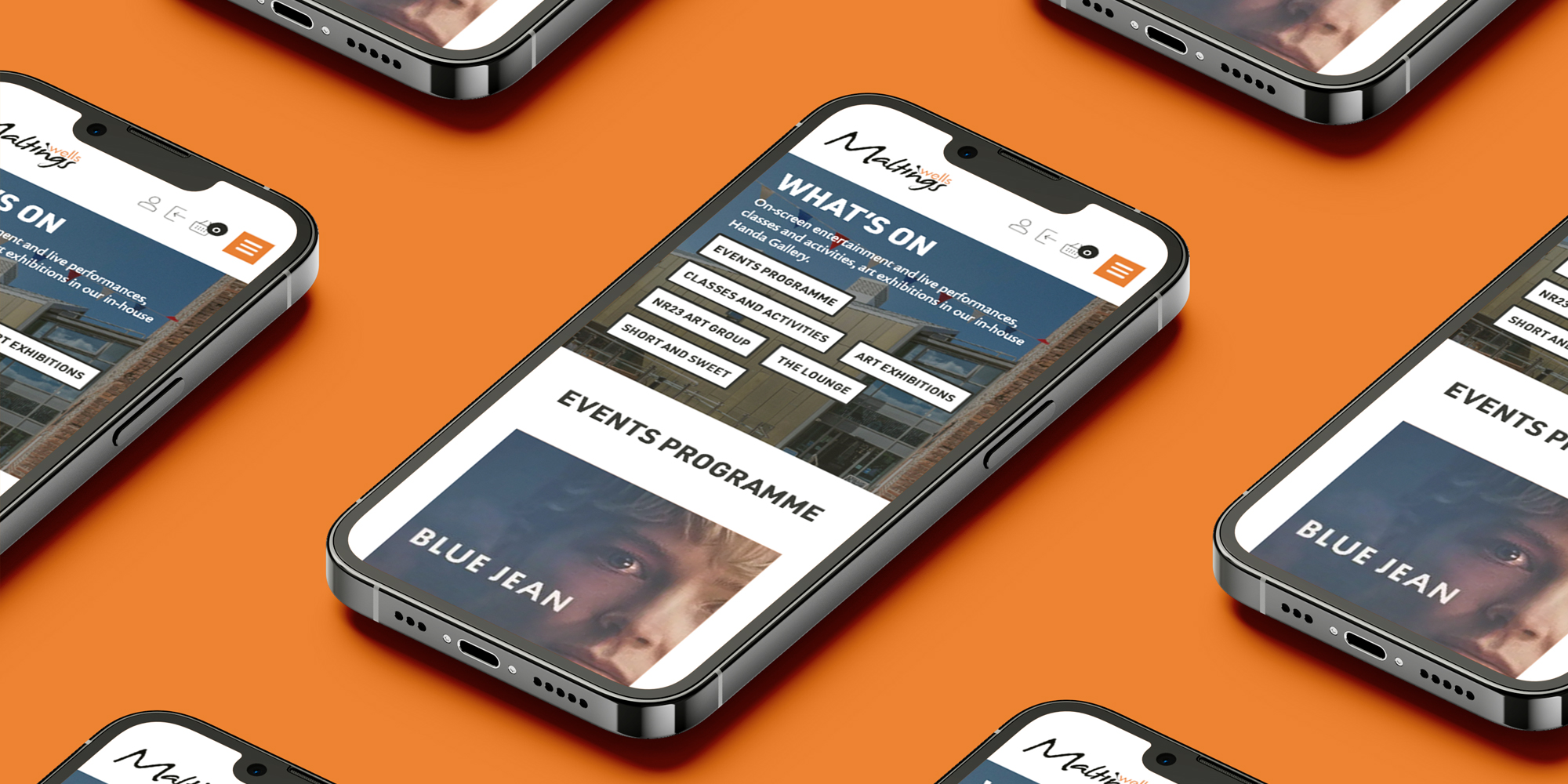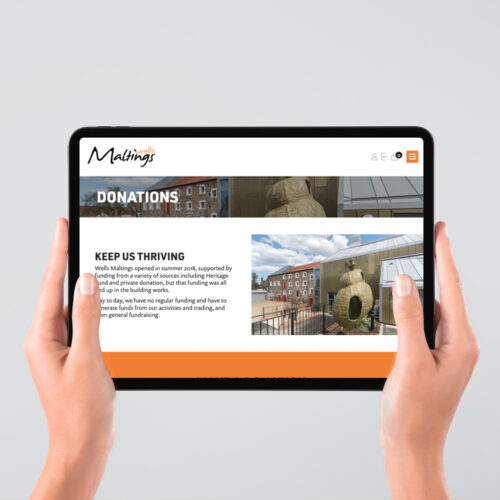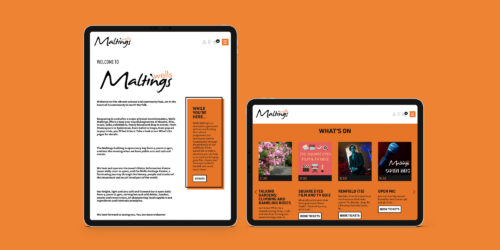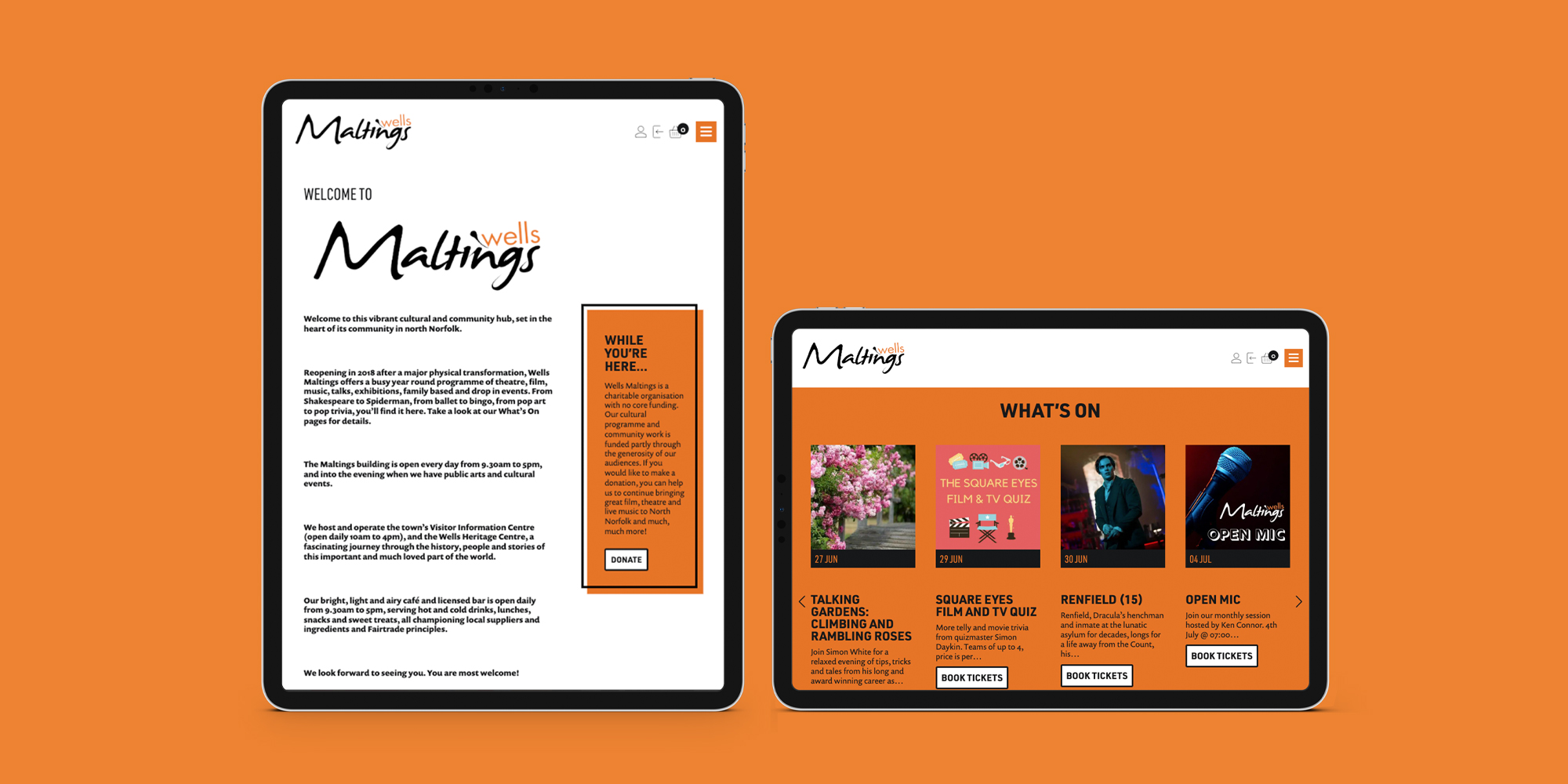 Smooth, bespoke integrations
Spektrix integrations have become a specialty of ours in recent years – in particular in the theatre and performing arts sector websites we've been building. This meant that our web developers were in the right place to deliver a bespoke solution for Wells Maltings.
We created a system where events could be tagged as either shows or classes when setting them up in Spektrix itself, and this would change how they would be displayed across the site so they could have separate listings for classes and exhibitions in just a few clicks. We also made it so that the team would be able to manually add their own events outside of Spektrix to give them total flexibility of how they wanted their events system to work and display.
We delivered Wells Maltings a site with a WordPress CMS that would be easy to modify with flexible modules so that their team would be able to keep everything updated for years to come.
"Splitpixel have created a beautiful website for us, exactly what we asked for and more. The team has been friendly and professional throughout, with particular thanks to our excellent project manager, Ren. When our old website was prematurely deleted, they snapped into action and managed to launch our new site a full day early! Everyone has worked incredibly hard to deliver a website we can be proud of and we would highly recommend them, both for their quality of work and friendly approach."
Rebecca Lynn, Marketing and Development Manager
Wells Maltings