Over 100 years old, The Cabot is a rare surviving vaudeville theatre venue that continues to be a go-to destination for thrilling performances, films, and classes – all while preserving the unique heritage of the venue. Despite being either side of a five-hour time difference, our teams worked together seamlessly to create an inviting, user-friendly website that upholds The Cabot's rich history and vibrant future.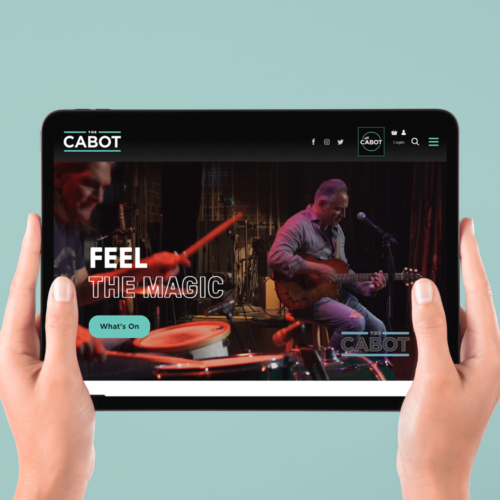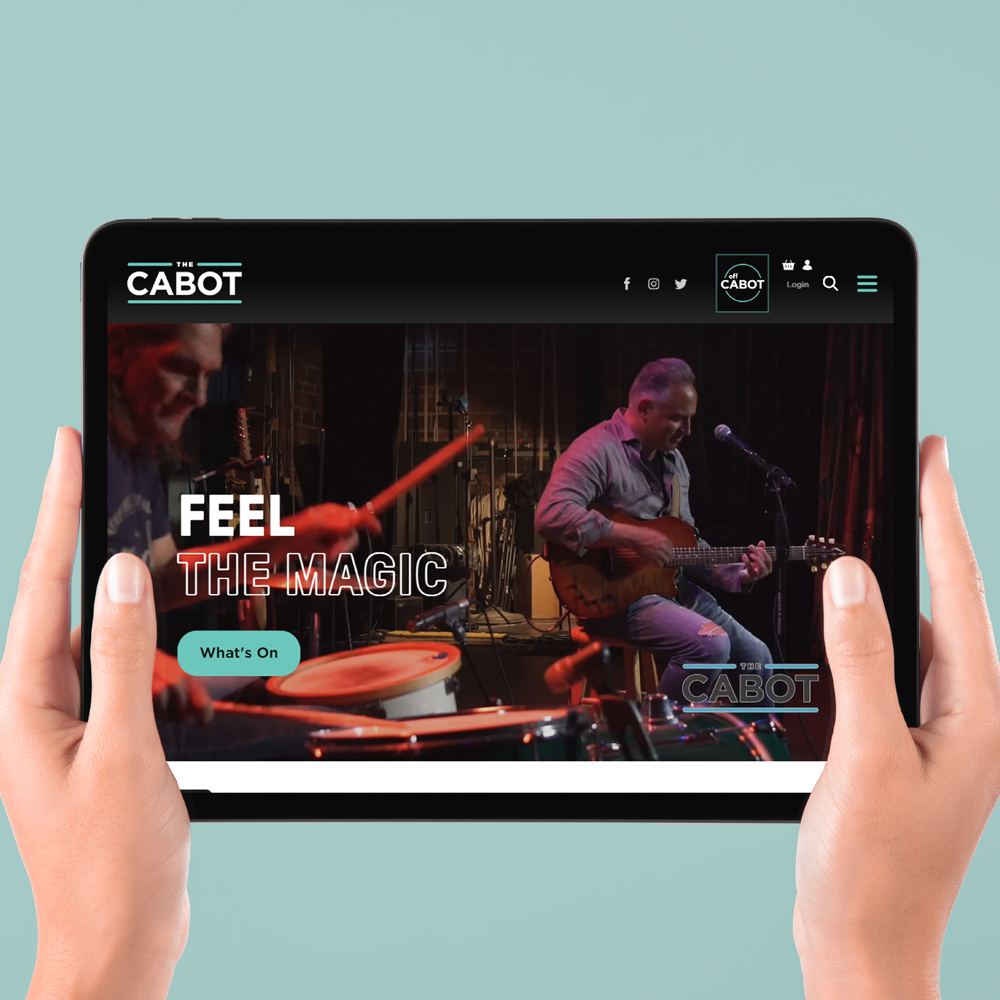 The brief
As a local treasure for the Beverly community, it was important to develop an accessible and user-friendly website for The Cabot, combining a variety of music, comedy, cinema, and community events. As a team, we were absolutely thrilled to work with our first US website client and breathe new life into the historic venue's digital presence. In addition to working directly with The Cabot's team, we also collaborated closely with the theatre's MA-based digital marketing consultants Heard Strategy.
The Cabot required a captivating visual identity to reflect the dynamic performances and films featured at the venue. We created a modern design with retro touches, using bold typography and colours to create a striking visual journey that complimented the user-friendly Spektrix integrated ticketing system.
To streamline The Cabot's ticketing process, we smoothly transitioned them from Ticketmaster and Veezi to a unified Spektrix platform, providing a consistent buyer journey across different event types. The new design, coupled with Spektrix integration, resulted in an enhanced user experience that celebrates the venue's events and unique history.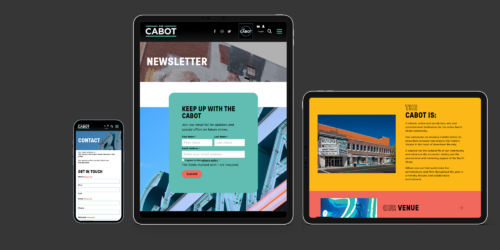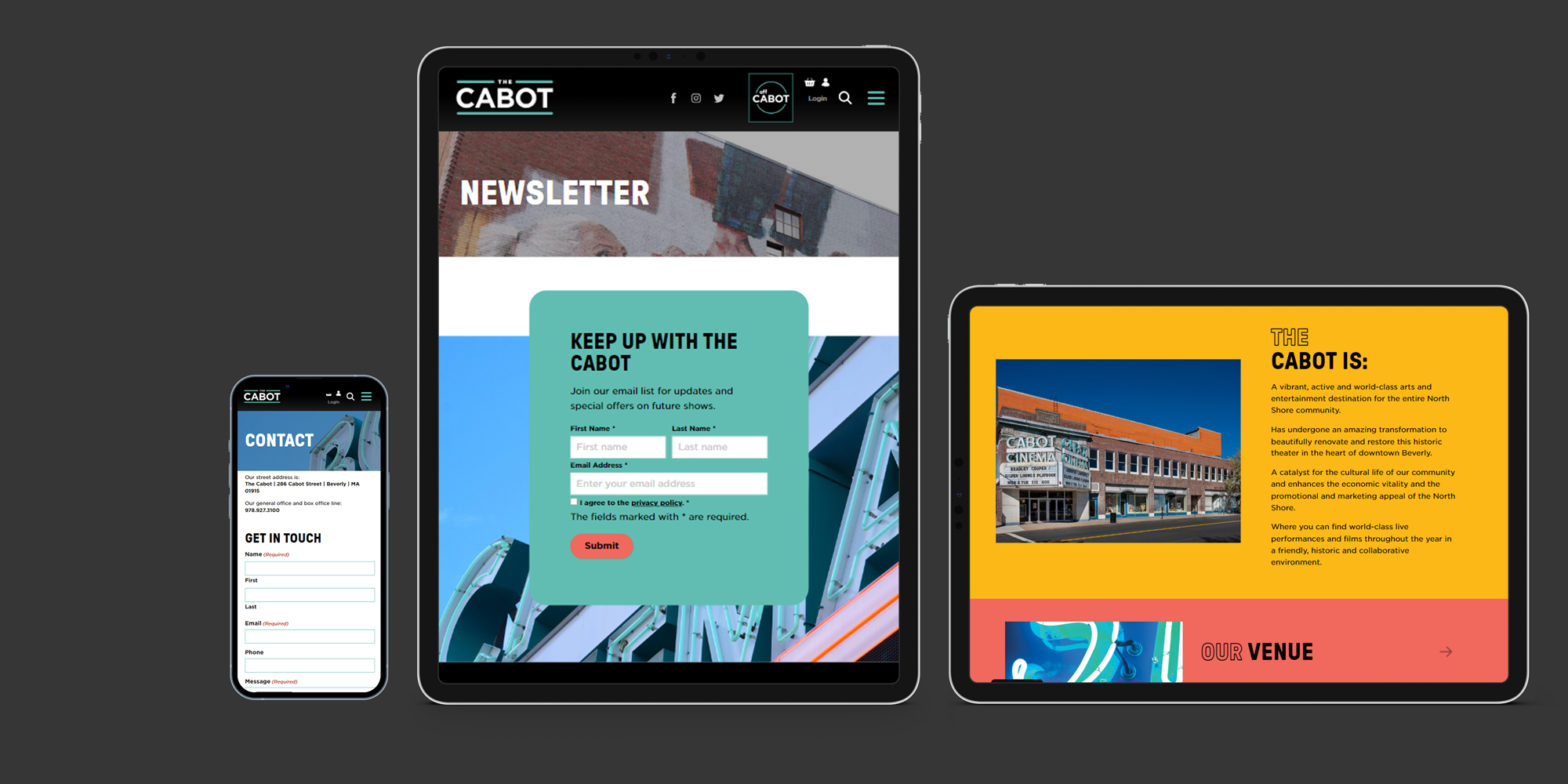 Tailored Spektrix integration for events, memberships, and donations
As a venue hosting a variety of different events, it was important to create a comprehensive and efficient event management system for The Cabot. Our dedicated team successfully transitioned The Cabot from utilising Ticketmaster for shows, concerts and performances, and Veezi for film screenings, to a singular Spektrix hub, integrated to manage all events in one place.
Donations and memberships are crucial for organisations like The Cabot, serving as a key source of funding for the venue, supporting renovations, general upkeep of the theatre and much more! An easily accessible and user-friendly donation and membership process was essential – through Spektrix integration, we were able to create a seamless donation and membership system, reducing any potential barriers for supporters.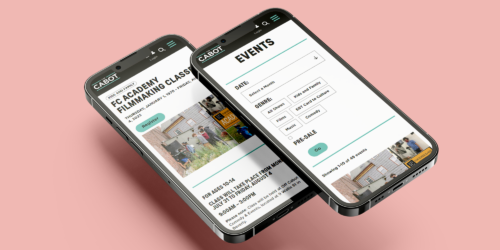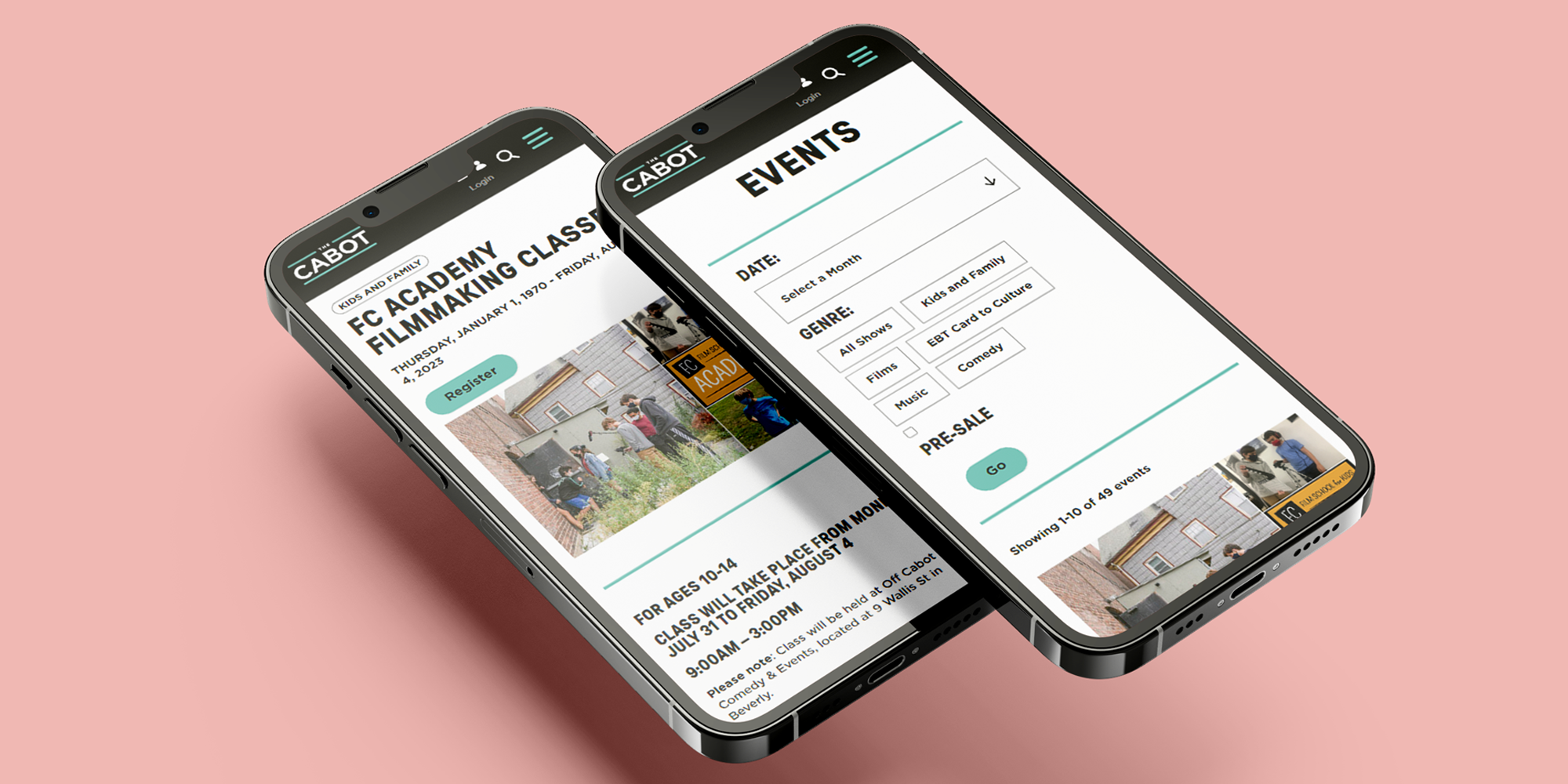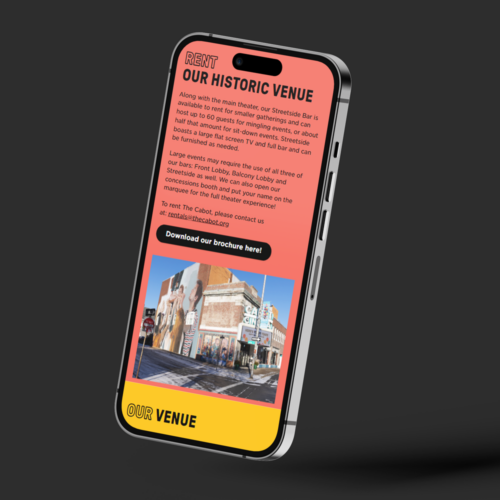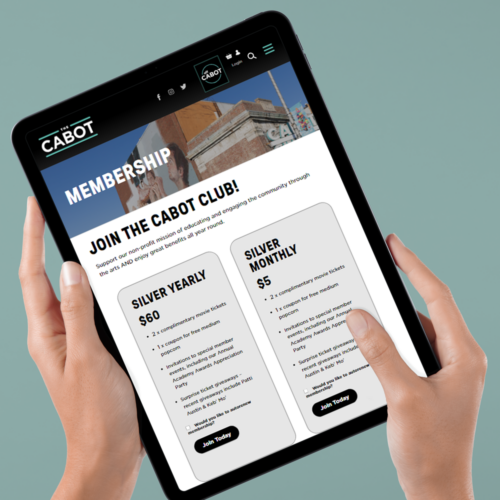 AA accessible design
The vibrant brand colours were carefully selected to create enough contrast to ensure readability for all. The responsive, dynamic design catches the eye through subtle introductions of motion on the buttons throughout the site.
By introducing new fonts and colours that enhance readability, designing clear navigation systems, and using assets to make the design more flexible for digital use, we've created a site that is not only engaging, but also inclusive and accessible for all users.
A striking design that tells a story
Our design strategy for The Cabot was to honour the rich history of the venue, while bringing a fresh and bold energy to the new site. We brought together new fonts, colours and digital assets with the venue's existing brand, making sure to highlight the venue's legacy and prominence in the Beverly community.
The design serves to preserve and present The Cabot's unique story and past. The large video hero showcases every aspect of the venue – you can't help but be drawn in by the content, ensuring a seamless journey for the user.
"Working with Splitpixel on The Cabot's website project was a tremendous success. Their team's expertise and dedication were evident from the outset, as they carefully listened to our requirements and translated them into a visually stunning and highly functional website.
"Even with the time difference, the collaboration was seamless, with regular communication and timely updates, ensuring that our vision was accurately brought to life. Since the website's launch, we have received remarkable feedback from our patrons, thanks to the intuitive design and smooth navigation.
"They were tremendously helpful in the massive undertaking of transitioning The Cabot from Ticketmaster/Veezi to Spektrix, enhancing the overall experience for our ticket buyers, members, and donors. Splitpixel's professionalism and innovative approach have truly elevated our online presence, and we couldn't be happier with the outcome. We highly recommend Splitpixel for any web development needs!"
Tori Dumstorf
Heard Strategy