Mind the Gap are a Bradford-based creative arts charity that run live arts performances featuring learning disabled and autistic actors, dancers, performers, and backstage crew. Through their Academy, their live projects, and their direct activism, Mind the Gap seek to address inequality in the performing arts sector – promoting a culture of inclusivity and accessibility for learning disabled and autistic Artists.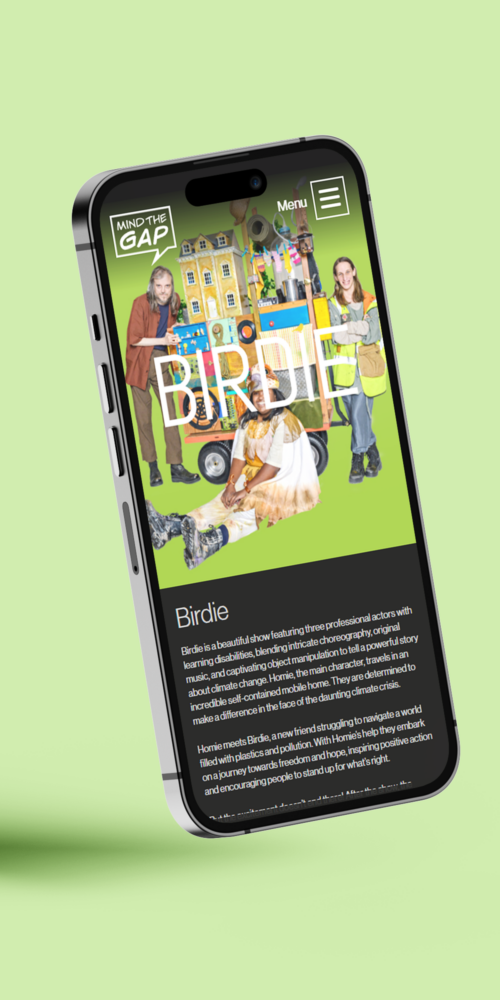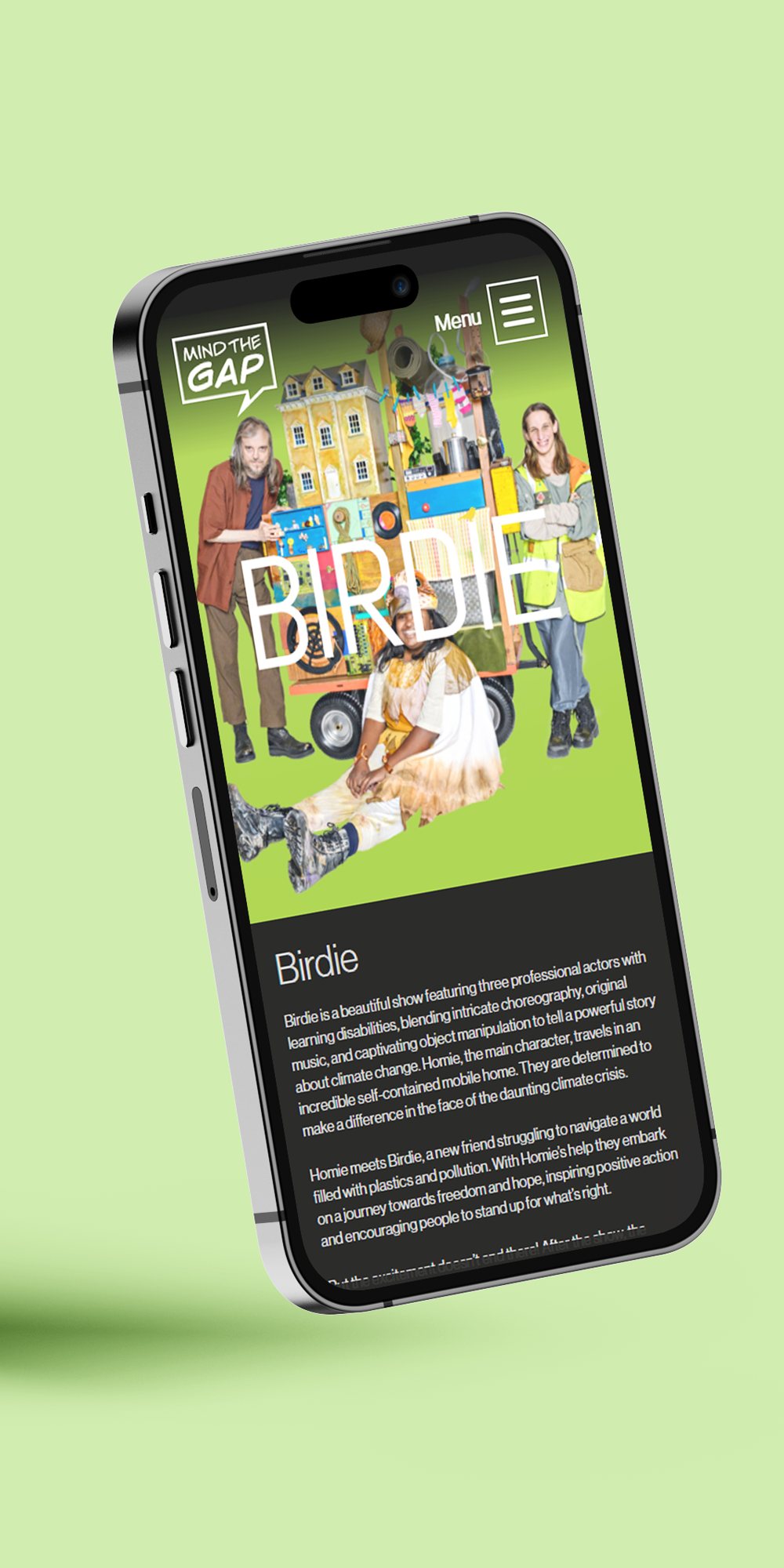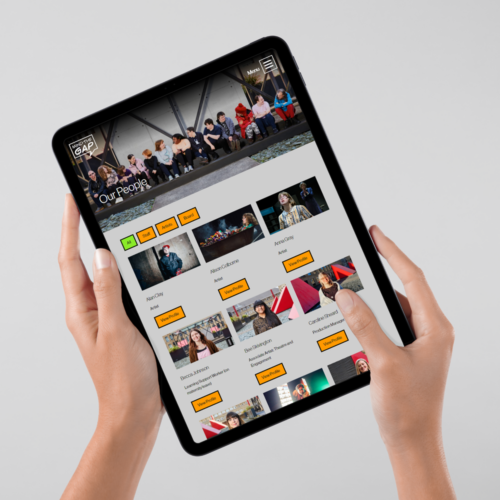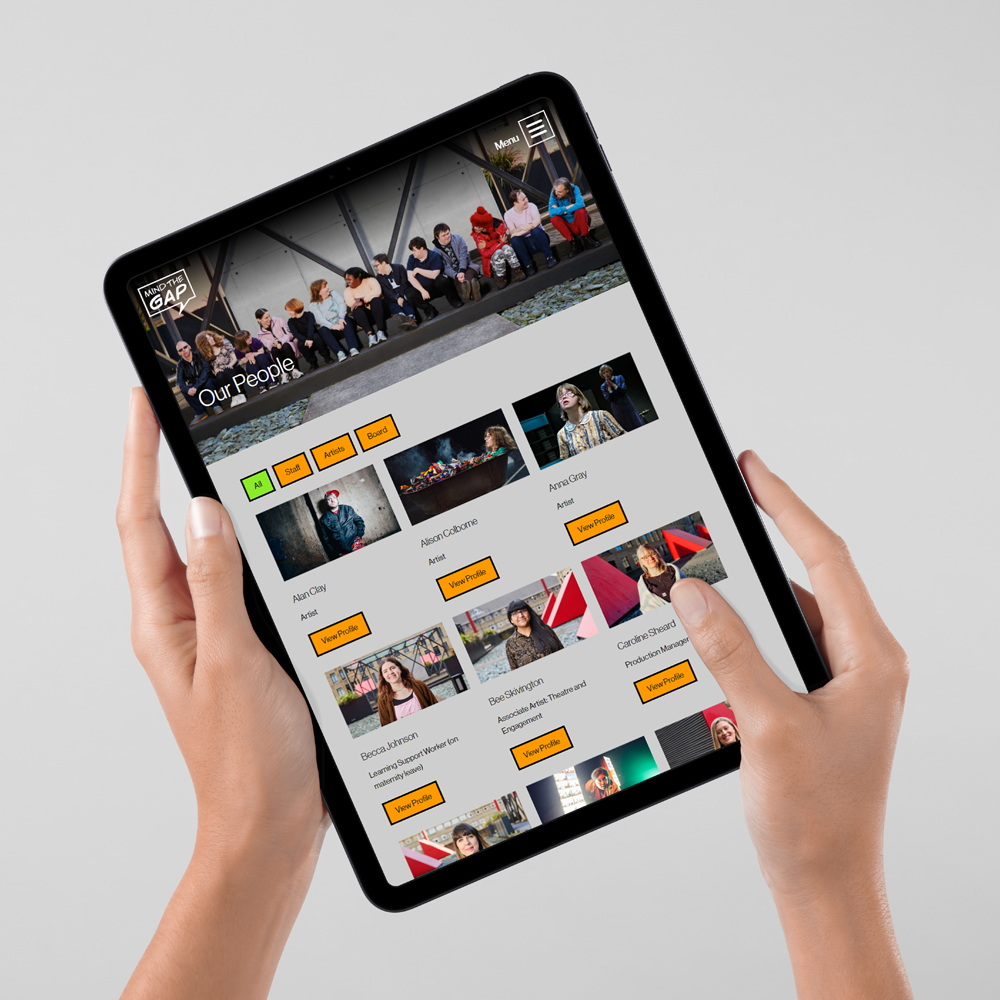 The brief
Mind the Gap wanted a new website that was visually engaging – showcasing high quality videos and images that would bring their incredible performances to life on screen. One of their key aims as an organisation is to deliver bold and cutting-edge theatre which excites and surprises audiences – so reflecting this on every page of their new site was really important.
The team at Mind the Gap also wanted to ensure that users of all abilities would be able to navigate the site to find all the information they could be looking for. This means they needed us to really think about the user journey and user experience to guarantee that content and calls to action flowed well across the site.
raised click-through rate
By eight months post launch!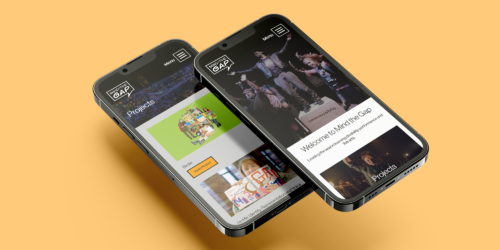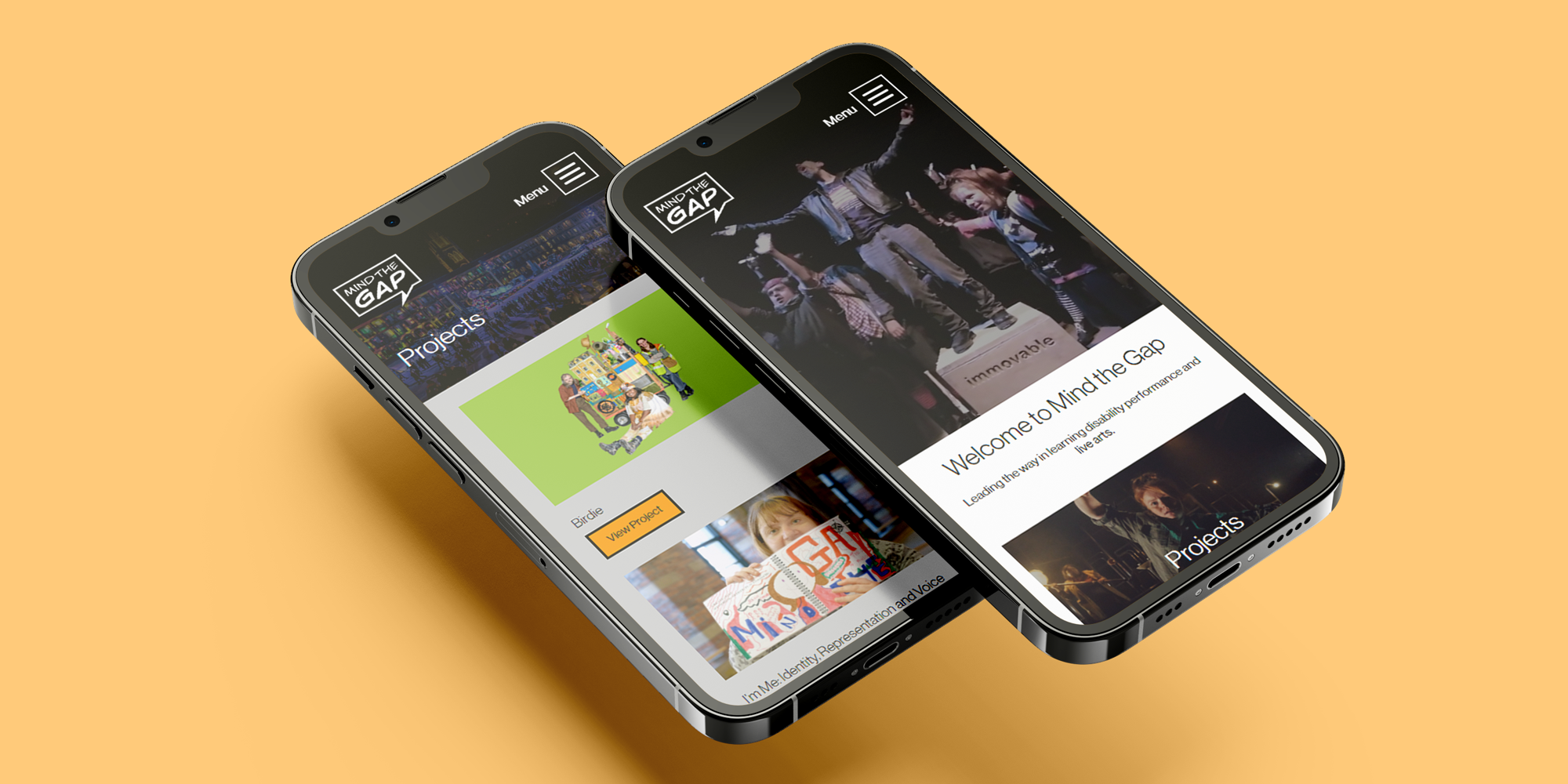 Creative Design
Our Creative Director, Rob, was inspired by Mind the Gap's callout-style logo and set up a design reminiscent of a pop-art, comic book aesthetic that was fun and creative without being cartoonish or childish. He chose a bold colour palette of black, green, and orange to create a striking look across the site and used buttons with black outlines that really pop out as if from a comic strip.
We also designed the site to best show off Mind the Gap's video and imagery, most notably a full-width hero video on their homepage which serves as a fantastic introduction to Mind the Gap's thrilling projects and talented performers, as well as making it easy to integrate striking video into every page of the site.
Accessible Content
As an organisation that works alongside people with disabilities, it was extremely important for the website to be accessible. The website we built for Mind the Gap fulfils (and exceeds) AA accessibility standards; we also took care to ensure their images all have quality descriptive alterative text (alt-tags) to allow users who access websites with screen reading software to enjoy the new site too.
We were also conscious of striking the right balance between dynamic design and accessibility and were mindful to not let style overcome ease-of-use. The comic-book inspired design of the site was complemented by clear, bold, and accessible text and icons – a case of form and function suiting each other really well.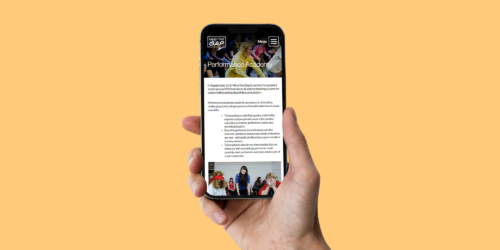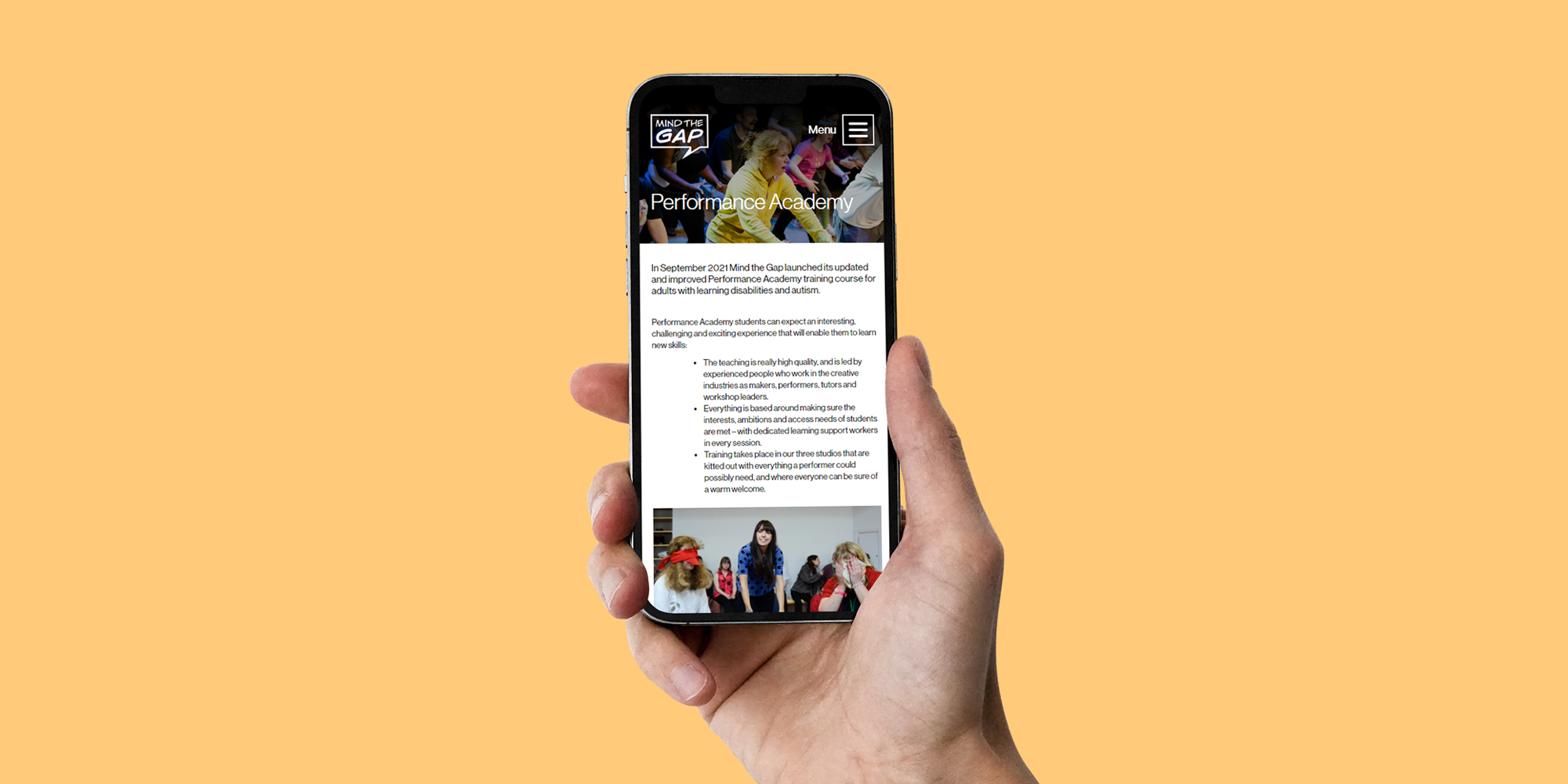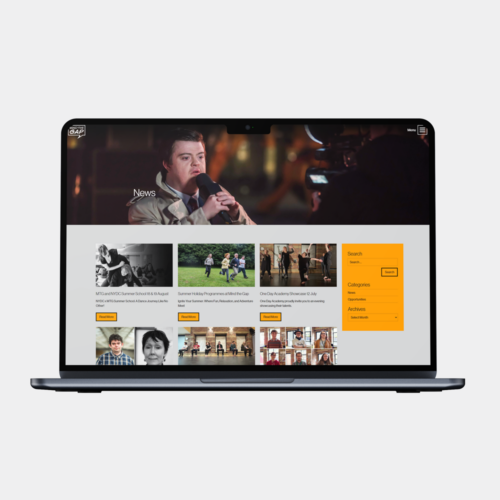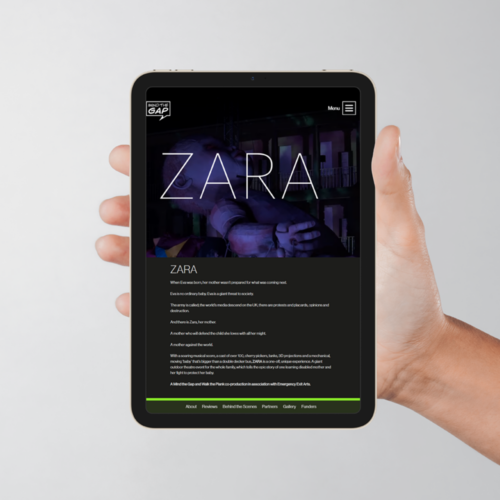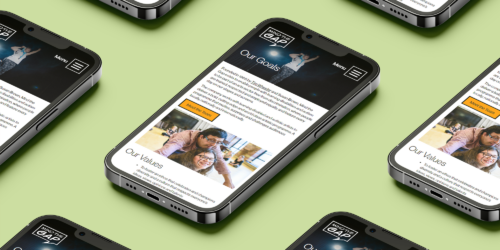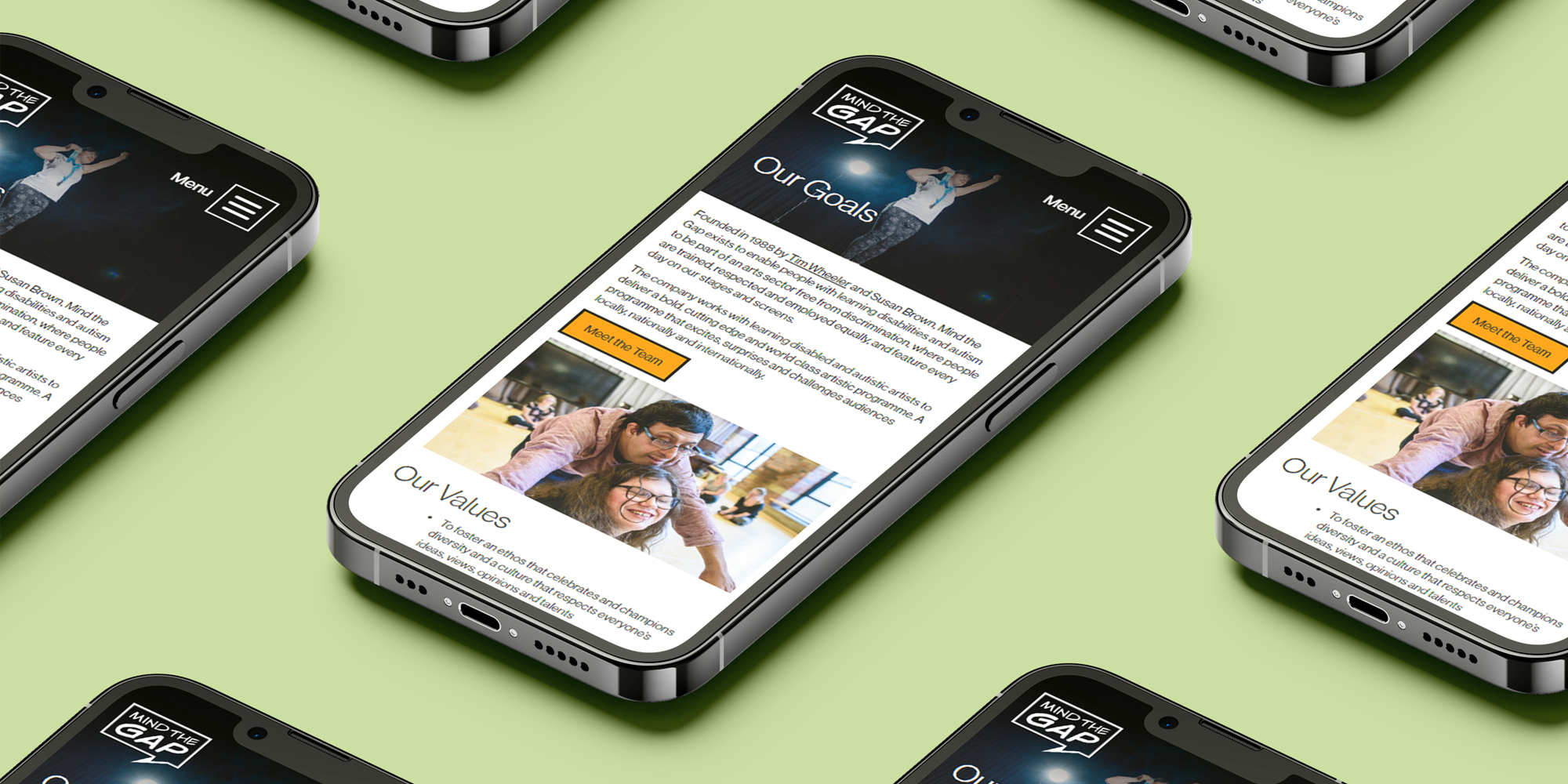 Futureproof WordPress development
As Mind the Gap continue to expand and grow as an organisation, they need a flexible website that can keep up – this is exactly what we've delivered. The website is modular which makes changing and updating content very straightforward. The team at Mind the Gap will be able to continue to showcase their incredible productions without much bother.
We also carried out training with their amazing team to help familiarise them with our CMS so they could make changes themselves. We're so incredibly pleased with how the website turned out and absolutely loved working with an organisation that cares about promoting accessibility and inclusivity as much as we do.
At eight months post-launch, the website has raised click-through-rate by 7.4%, increased organic search users by 16.4%, and improved page views by 25.3%.
You can read more about how we approach web design for disabled people's organisations and find out more about our web projects in the theatre and performing arts sector.
"We worked with the brilliant team at Splitpixel to redevelop our website. The aim was to create a more visual, streamlined experience and we're thrilled with the results! Thanks so much for delivering such a beautiful website."
Rob Abbey, Audience Development Officer
Mind the Gap