Located in the southwest of London, Landmark Arts Centre have been hosting a diverse variety of classes, events and activities since 1995. A charity funded through audience donations and supported by a team of dedicated volunteers, Landmark Arts is a vibrant hub of culture, creativity, and community.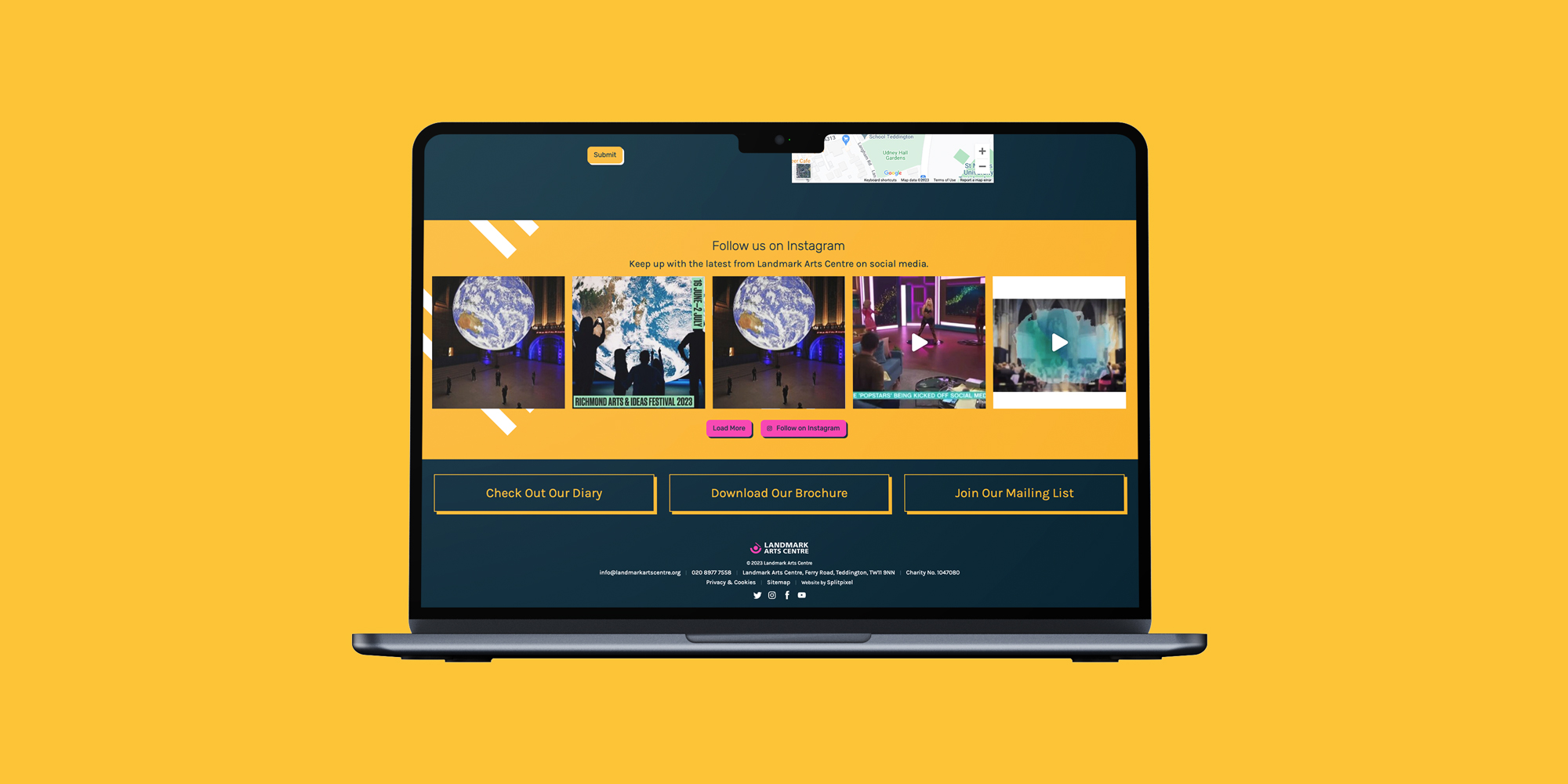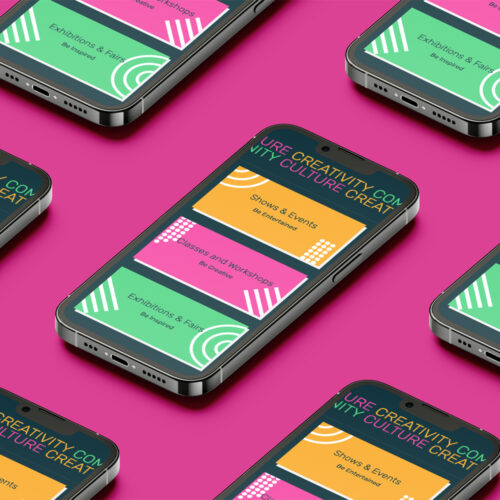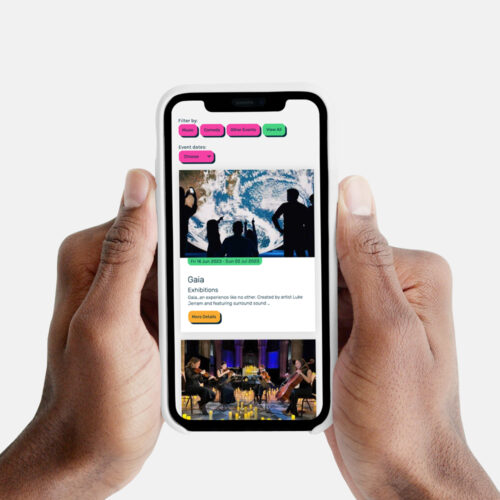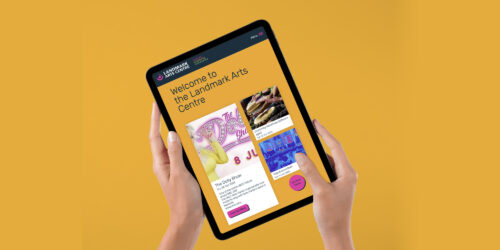 The brief
As an independent charity in the arts and culture sector, Landmark Arts Centre were keen to work with a digital agency that had experience working with organisations like themselves; but they also wanted to find a team that shared their community values.
They were looking for a Ticketsolve integrations specialist to create a bespoke event listing and ticketing system for their online box office. This would allow a single coherent design aesthetic and user experience throughout the site – whether a user is browsing information or buying tickets for shows and classes.
Vibrant design
Using a bold colour scheme to bring the Landmark Arts digital brand to life, our Creative Director, Rob, designed a really striking new site. A palette comprised of warm orange, bright pink, mint green, and dark blue was artfully selected to present something engaging while remaining pleasant and accessible.
The homepage features cool dynamic and responsive elements that make the content pop off the screen – this includes drop shadow buttons and CTAs, parallax scrolling blocks, and a scrolling text feature to emphasise the centre's main focus on culture, creativity, and community. The site also makes strong use of images and iconography, using image backgrounds on content blocks to make the content lively.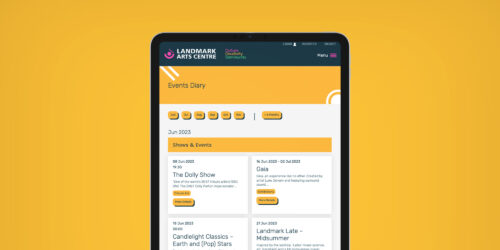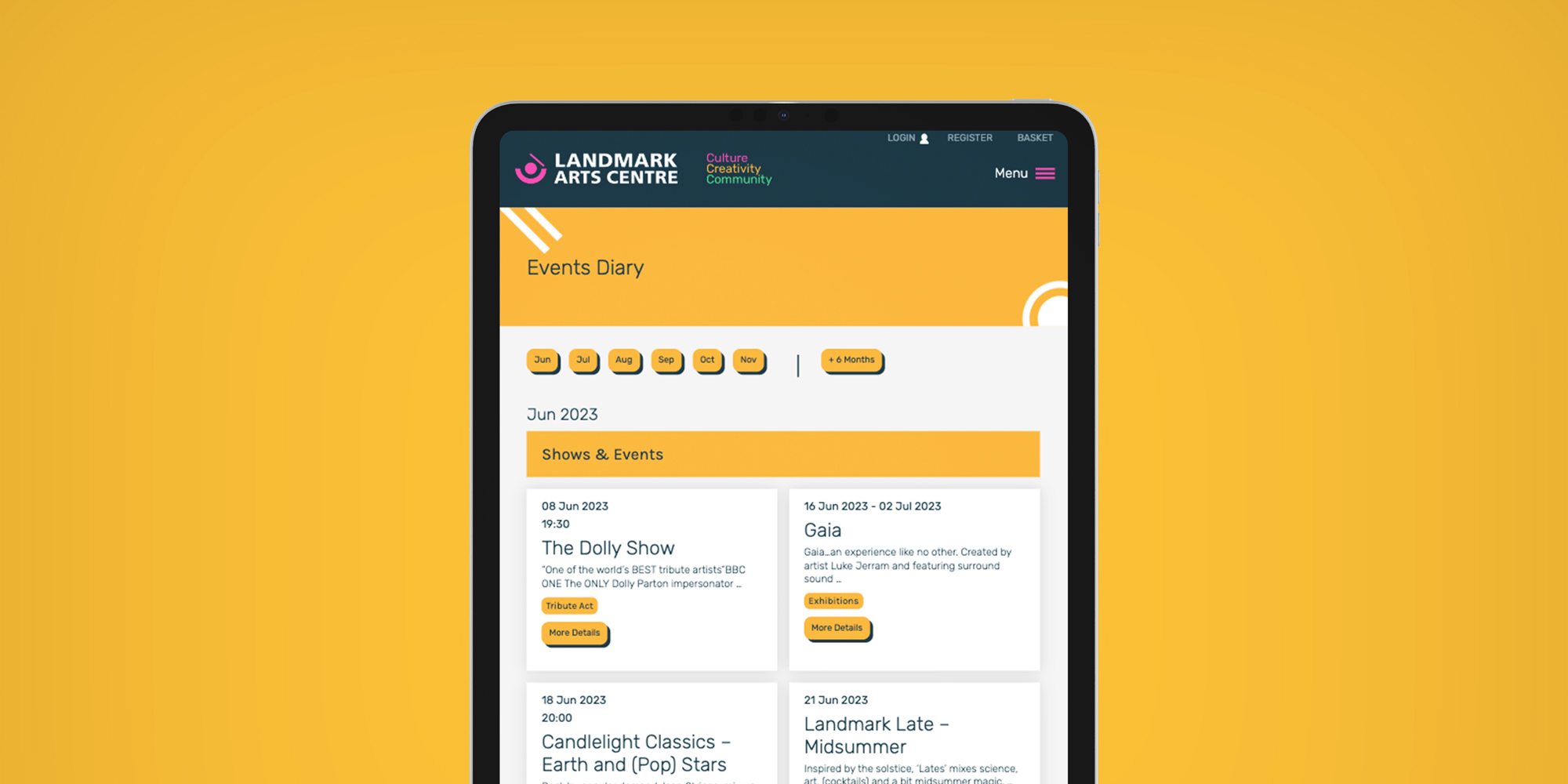 Smooth integrations
Our developers Ash and Goncalo built a site complete with a fully bespoke Ticketsolve integration for a seamless box office browsing and checkout process. They created three separate events listing areas for shows, classes, and visual arts – each with unified visuals for a consistent experience – but each with its own unique elements.
The events are also unified into one simple events diary listing, enabling users to browse events in multiple ways. This was a highly customised system that our developers created for this project, and it will enable Landmark Arts to promote their classes and events with confidence in a smooth user journey for ticket buyers.
increase in website clicks
increase in click-through-rate
At six months post-launch!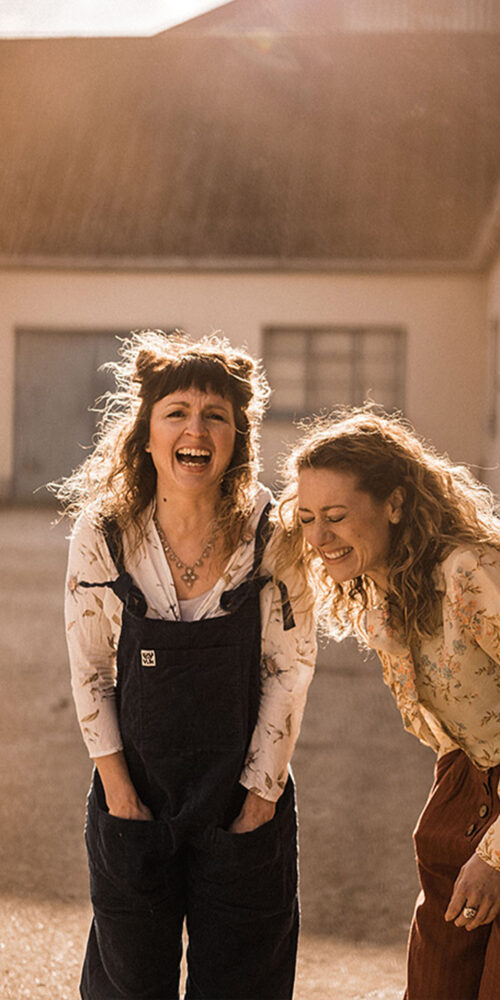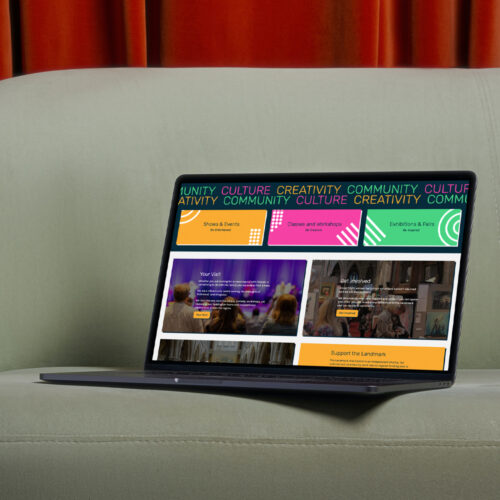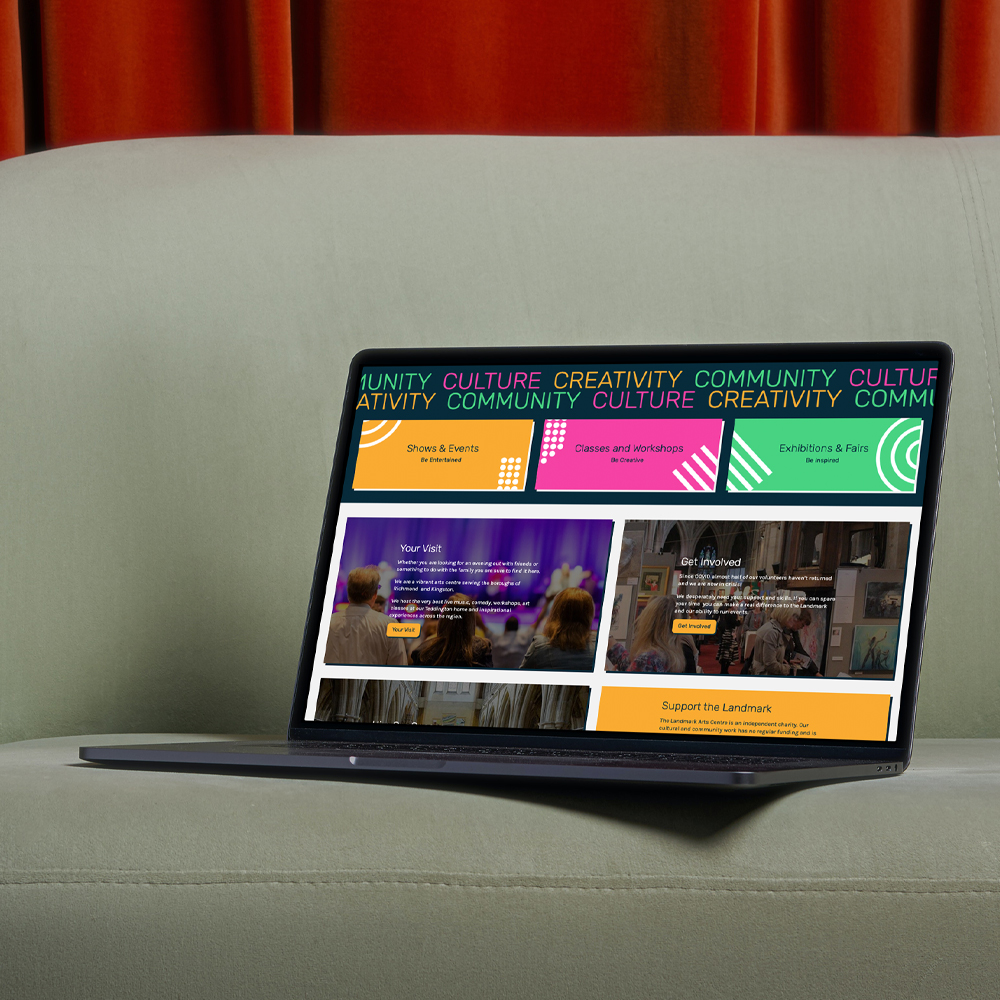 Futureproof WordPress development
The new site is built on a custom WordPress CMS that will enable the team at Landmark Arts to add, amend, and rearrange webpages as often as they like. This means that they can easily add new content blocks to existing pages and create any new ones as they continue to grow for years to come.
They'll also be able to add new posts to their bespoke blog area where our developers migrated existing news content across from Landmark Arts' old site. This means that all their old news will still be accessible as they continue to share exciting new stories.
We really loved the continuous collaboration with the team at Landmark Arts throughout the project – from the initial brief, through design, build, and testing. This made the entire process really rewarding and we're incredibly proud of the result.
At six months post-launch, website impressions had risen by 10.1%, click-through-rate was up by 23%, and website clicks had improved by 35.4%!
"The Landmark Arts Centre was seeking to build a new, vibrant and welcoming website, highlighting core community offerings: Shows & Events, Classes, Fairs & Exhibitions and Space Hire. The site needed to be simple, uncluttered and easy to navigate whether on a laptop, tablet or phone; it needed to link seamlessly with our ticketing system, Ticketsolve, and allow flexible control of content using WordPress. The Landmark team worked very closely with Splitpixel throughout the process, from requirements definition through to launch. Splitpixel provided outstanding design ideas, were flexible in their application and offered valuable experience and advice where needed. The iterative build stage involved regular and effective communication wherein Splitpixel were very responsive to feedback. The final migration and launch was very smooth and stress free. We feel we have achieved all of our original goals and beyond. We have had a fantastic response from many of our customers and believe we now have a modern website that sets us up perfectly for the future."
Ian Llewelyn
Landmark Arts Centre