Jacksons Lane is an arts and culture centre in North London that showcases contemporary circus performances and work towards breaking down barriers – promoting empowering, community-centred cultural education, supporting young and emerging artists, and making art more inclusive to help bring local people together.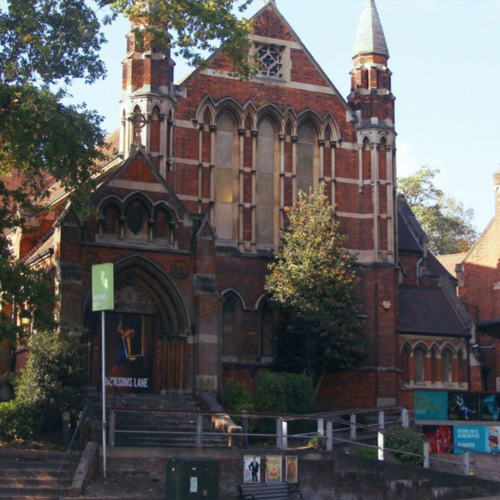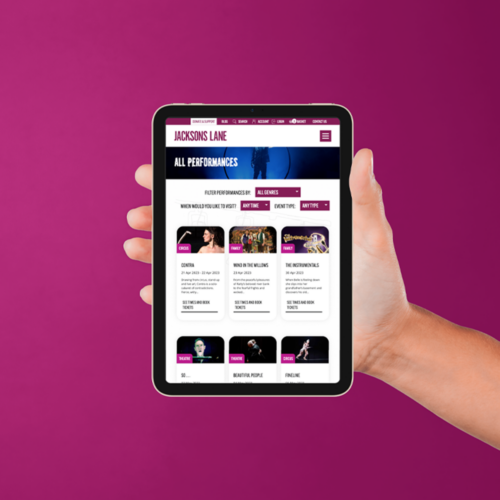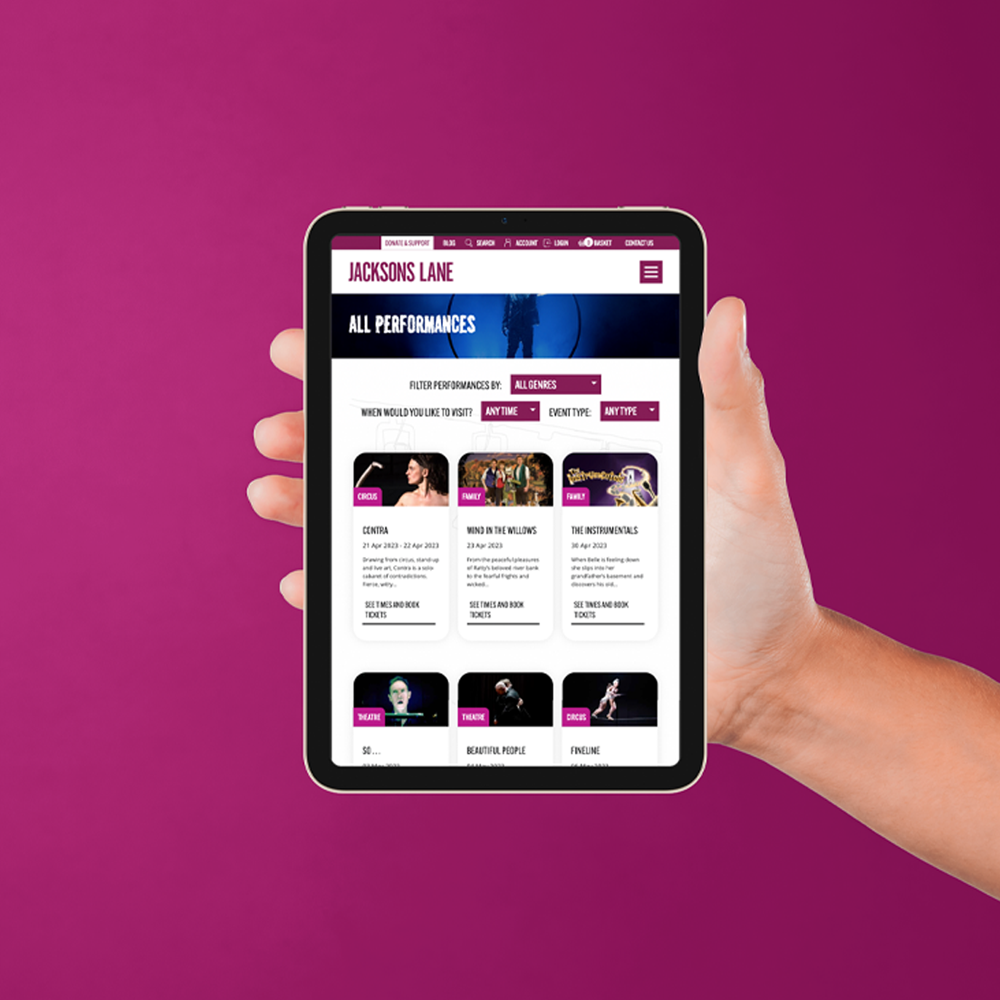 The brief
Jacksons Lane were looking for a bright, vibrant, and dynamic new site to showcase their incredible arts centre. They're the UK's leading contemporary circus producer so needed their site to accommodate impressive visuals that really did their performers justice.
As Jacksons Lane are a venue for hire, they also required bespoke forms that would enable them to take and organise bookings. These needed to be reliable and easy to set up and use so they could be easily amended if any changes occurred in the future.
Importantly, Jacksons Lane needed a specialist Spektrix agency who could deliver a custom integration between their new WordPress website and Spektrix to allow them to have separate listings for performances and classes at their centre.
improvement in click-through-rate
After just six months from launching their new site!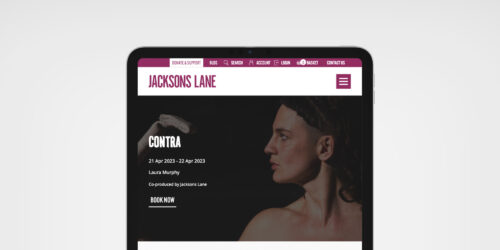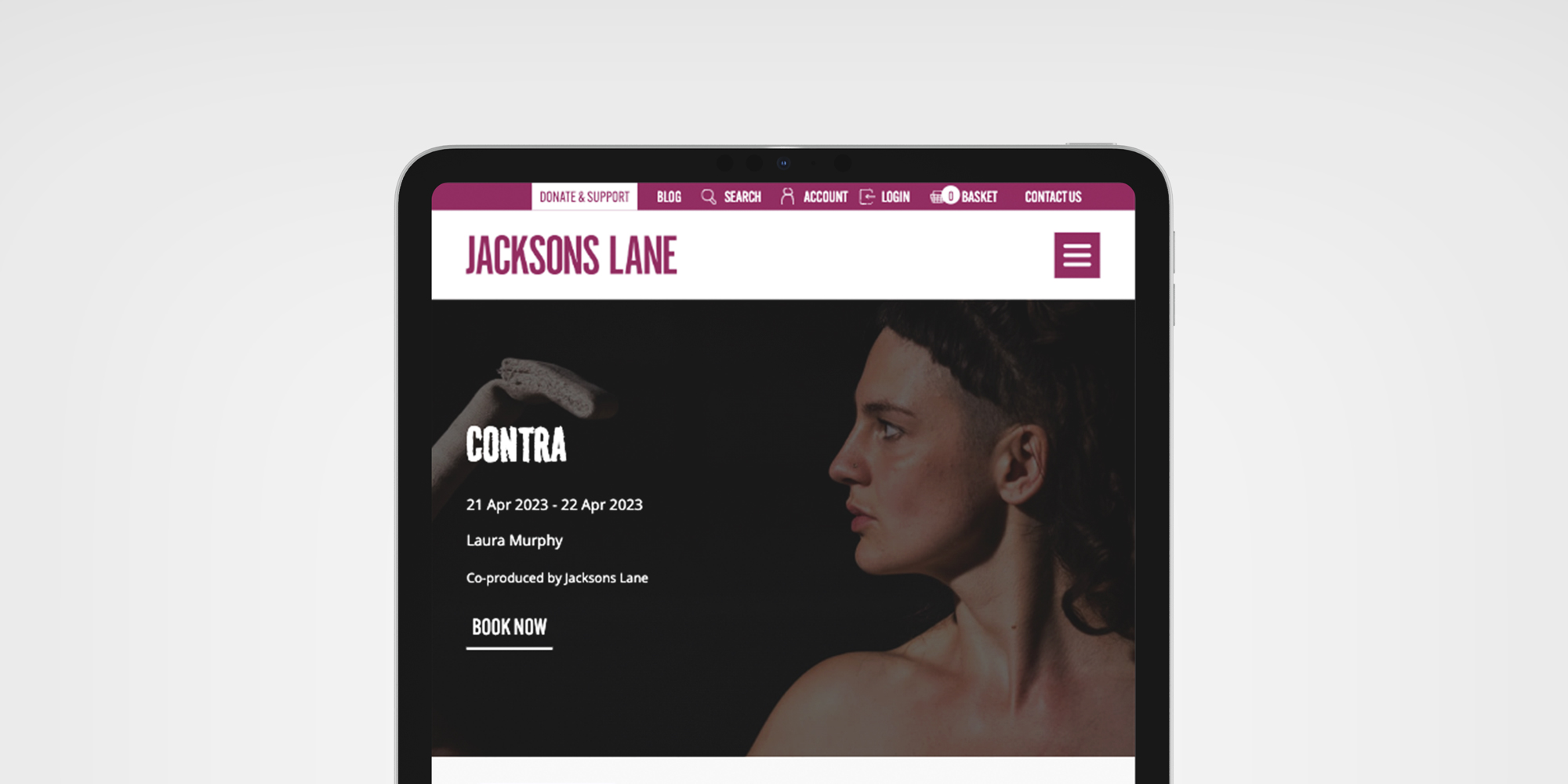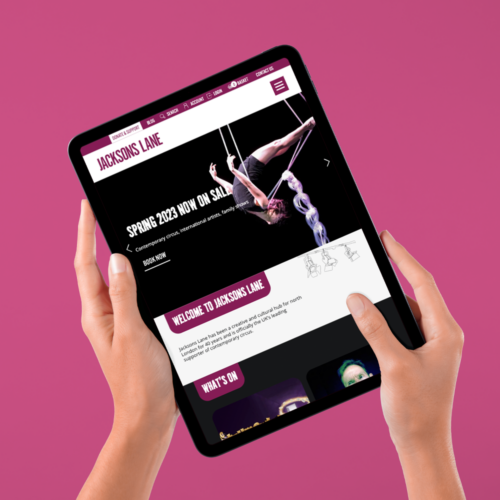 Branding brought to life
Jacksons Lane's original branding featured a number of beautiful bespoke animations – doodle-style illustrations that draw themselves onto the page before your eyes. We felt that this really complemented the fun and creative heart of Jacksons Lane so our Creative Director, Rob, was determined to integrate them fully into the site in order to bring the branding to life.
Rob also fleshed out the Jacksons Lane brand into a full digital style board of fonts and colours – featuring a seasonal theme of rich and vibrant purples and oranges that he felt really suited a chic and contemporary circus centre like Jacksons Lane. The design is also full of responsive features that makes for a fun, interactive user journey.
We also wanted the branding to be flexible – Jacksons Lane use different brand colours to signify different performance seasons, so we incorporated a number of 'seasonal' elements that could automatically change colours as the season changed.
Accessible, image-led content
We wanted to balance accessibility with bold, attractive content. The website is built to AA accessibility standards to ensure it can be enjoyed by as wide a range of people as possible. We also really considered the user journey throughout the site, making information as straightforward to locate for just about anyone.
To truly showcase the exciting artistry of Jacksons Lane, it was important to fill their site with a range of high-quality images. These all have alt-tags so that the site remains accessible to users who require screen reading software to access webpages.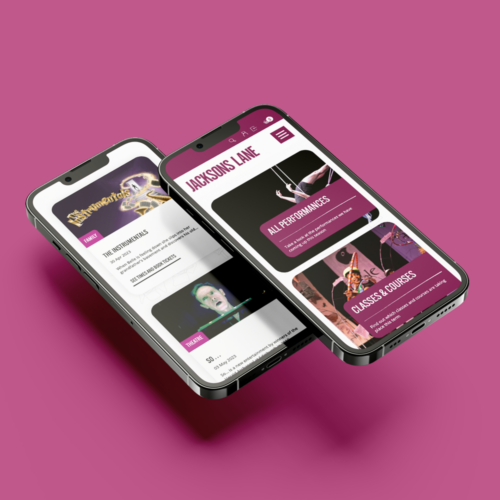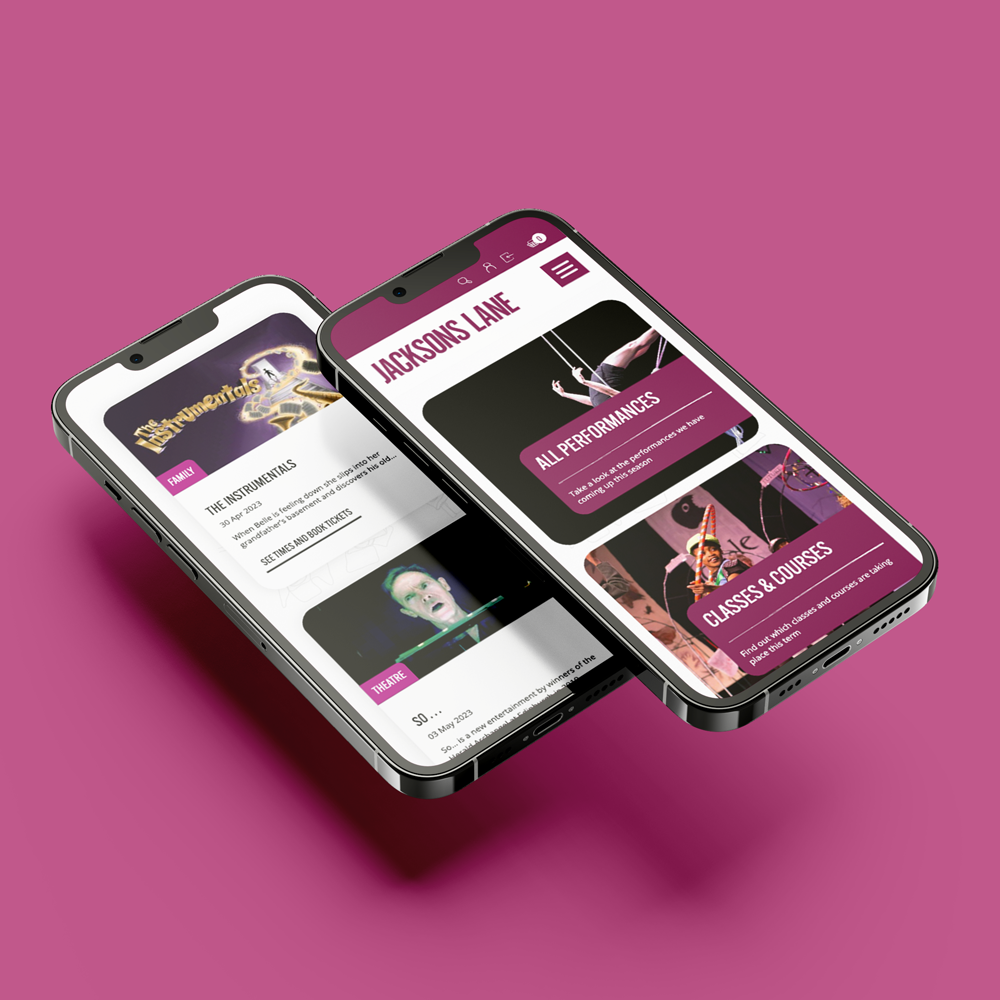 Futureproof WordPress development
An important part of the project was providing Jacksons Lane with a site that could grow and develop for years to come. Something that they could keep up to date with all their incredible shows and productions without having to make time-consuming changes to webpages.
We set Jacksons Lane up with a modular website with a user-friendly CMS and gave them training so they'd be able to make changes to their site with just a few clicks.
We really love working with arts organisations like Jacksons Lane because they're creative and dynamic and allow us to deliver some of our most exciting work. You can find out more about our web projects in the theatre and performing arts sector or learn what we think makes a great theatre website.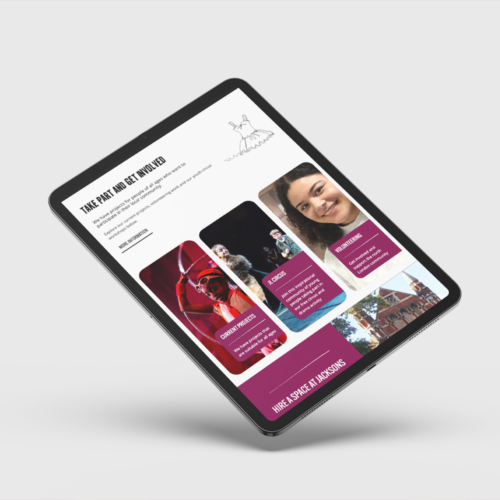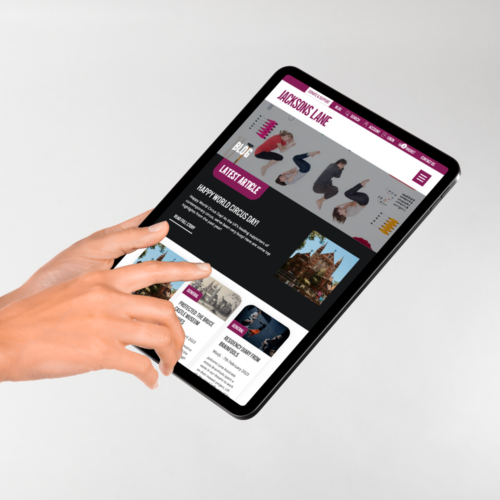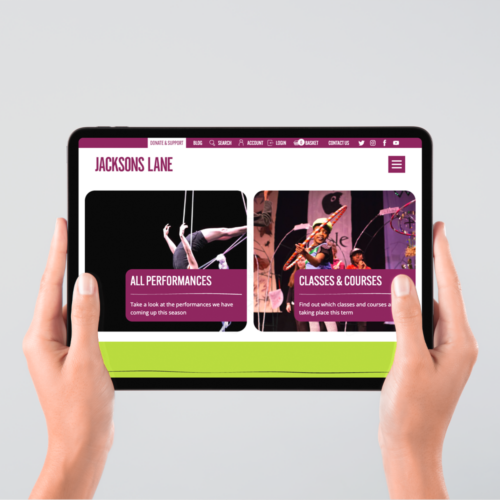 Ongoing support
Jacksons Lane is a busy venue, and its location makes it a popular destination for live acts of all kinds. Recently, Ricky Gervais booked Jacksons Lane – a relatively small theatre for his usual audiences – for two nights of new material.
Expecting a massive traffic spike around the event, we were on hand to up server capacity on the morning tickets went on sale, and then reducing it again in the evening once the initial buzz had died down.
On the day of the ticket launch, we helped keep an eye on the site. Our Spektrix integration allows for an automatic queuing system to kick in to manage user levels, and tickets were all sold out within 15 minutes.
At six months post-launch, the Jacksons Lane website was performing well across many key metrics. Direct traffic improved by 90.2%, page views rose by 67.2%, average session rose by 67.1%, and click-through-rate improved by an impressive 117.2%.
"To coincide with our capital renovation projects, Splitpixel redeveloped the Jacksons Lane website – banishing the old, dark pages and transforming them into a beautiful, bright and easy-to-use design which perfectly mirrors what we hope to achieve with our newly re-opened venue. With the website launched, they continue to be on hand with prompt and practical advice and assistance."
Max Smiles, Marketing Manager
Jacksons Lane