Located just north of London, Harlow Museum & Walled Gardens is home to galleries and historical gardens where exhibitions and events are hosted throughout the year. Showcasing cultural artefacts, lush green spaces, a rich library – the museum and gardens are a hub of local social history and heritage.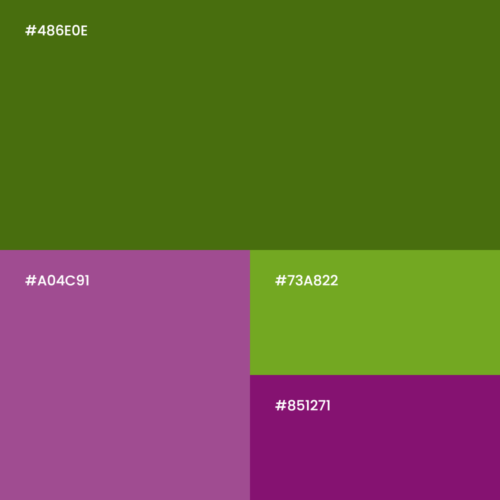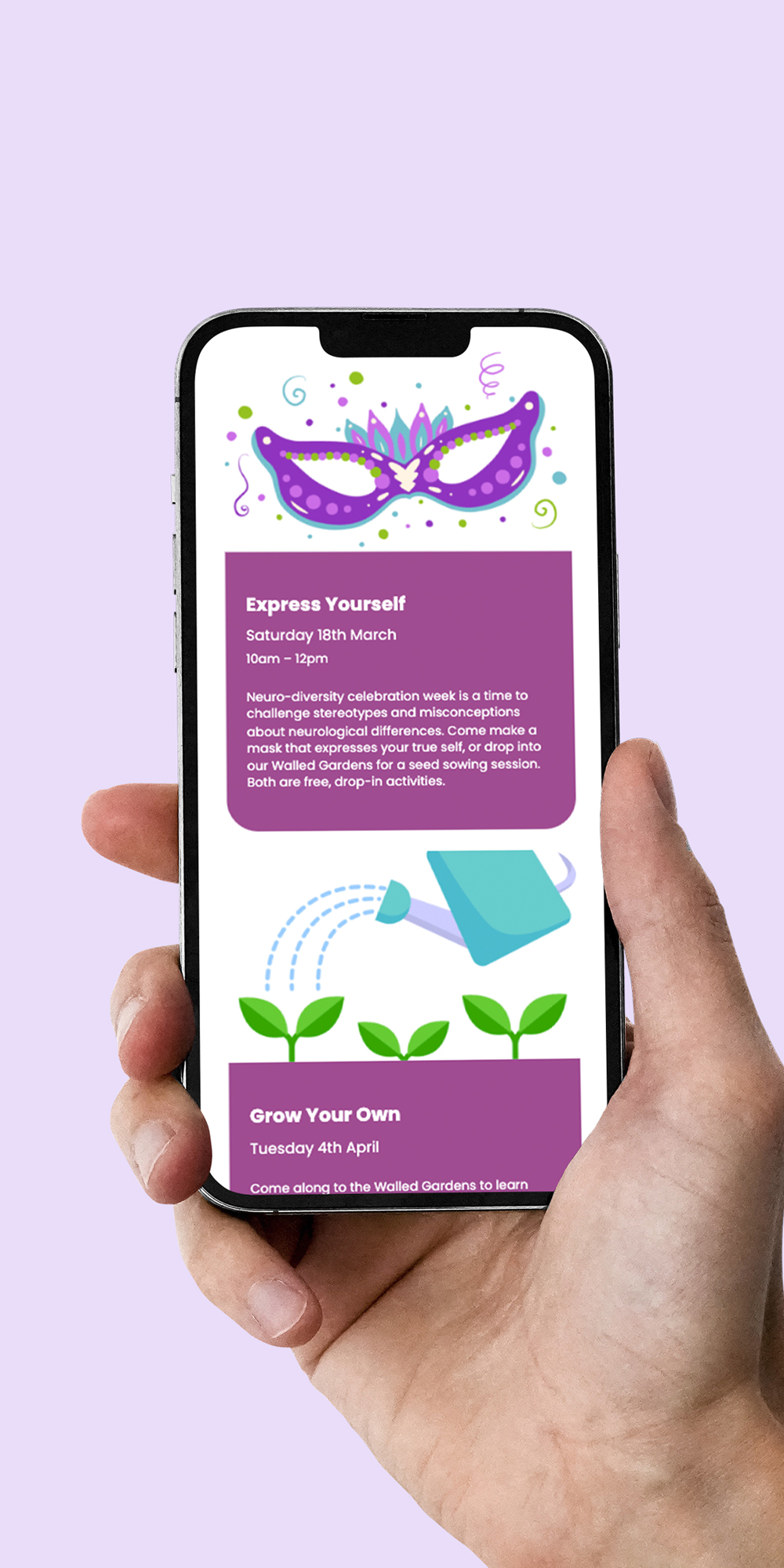 The brief
Harlow Museum & Walled Gardens were looking for their first ever website. They needed a digital agency who could transform their logo and colour scheme into a full digital brand – helping raise their profile in the digital space.
They wanted something stylish and simple – easy to update and accessible to all. The museum and gardens are managed by a small team that includes volunteers, so they wanted a straightforward CMS to change and update content whenever they need to.
Impressive imagery would be a vital feature. The museum houses a lot of exciting items of heritage and the gardens are beautifully landscaped – this is what draws in visitors – so quality imagery would need to be a fundamental part of the new site.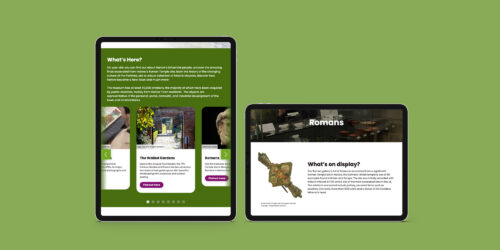 Image-led web design
Our Senior Designer, Amy, created a full digital style board with colours and themes that truly captures the essence of the museum and gardens. With a bold and clear typeface throughout, paired with colours that present an accessible contrast for readers, the website is simple but bright and engaging. Content is carefully spaced and thoughtfully arranged to build a smooth user journey.
The website features a full spread hero slider of high-quality images on the homepage to immediately showcase the best of what Harlow Museum has to offer – beautiful scenery, fascinating artefacts, and school children visiting. Throughout the site, images are framed in curved blocks with matching CTAs and buttons that add a sense of playfulness.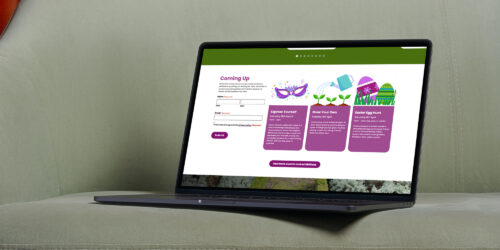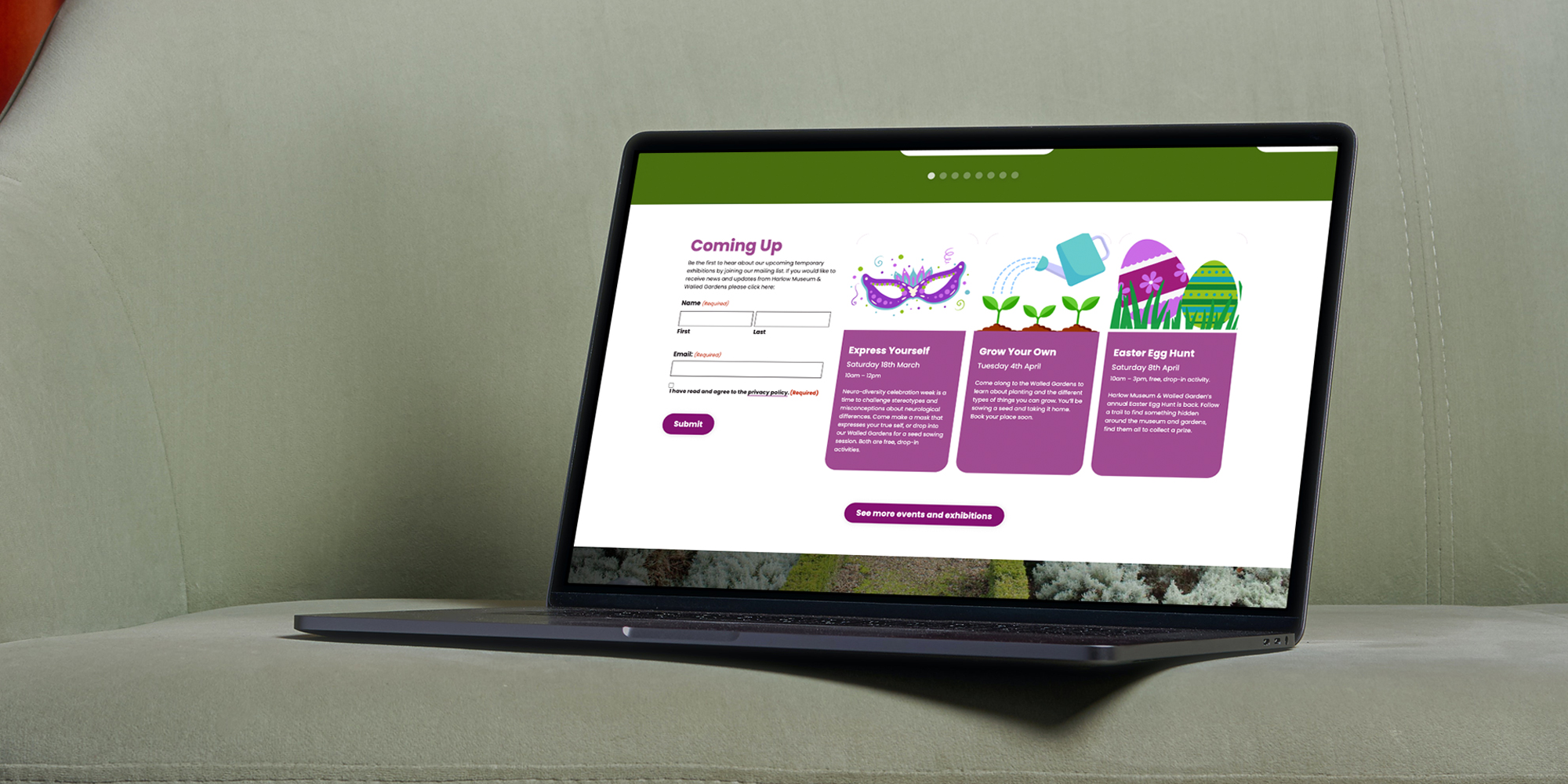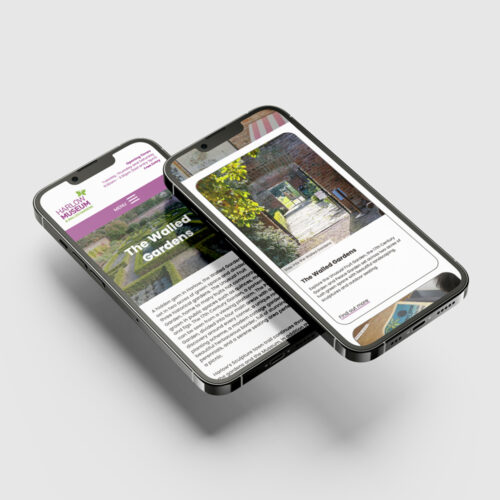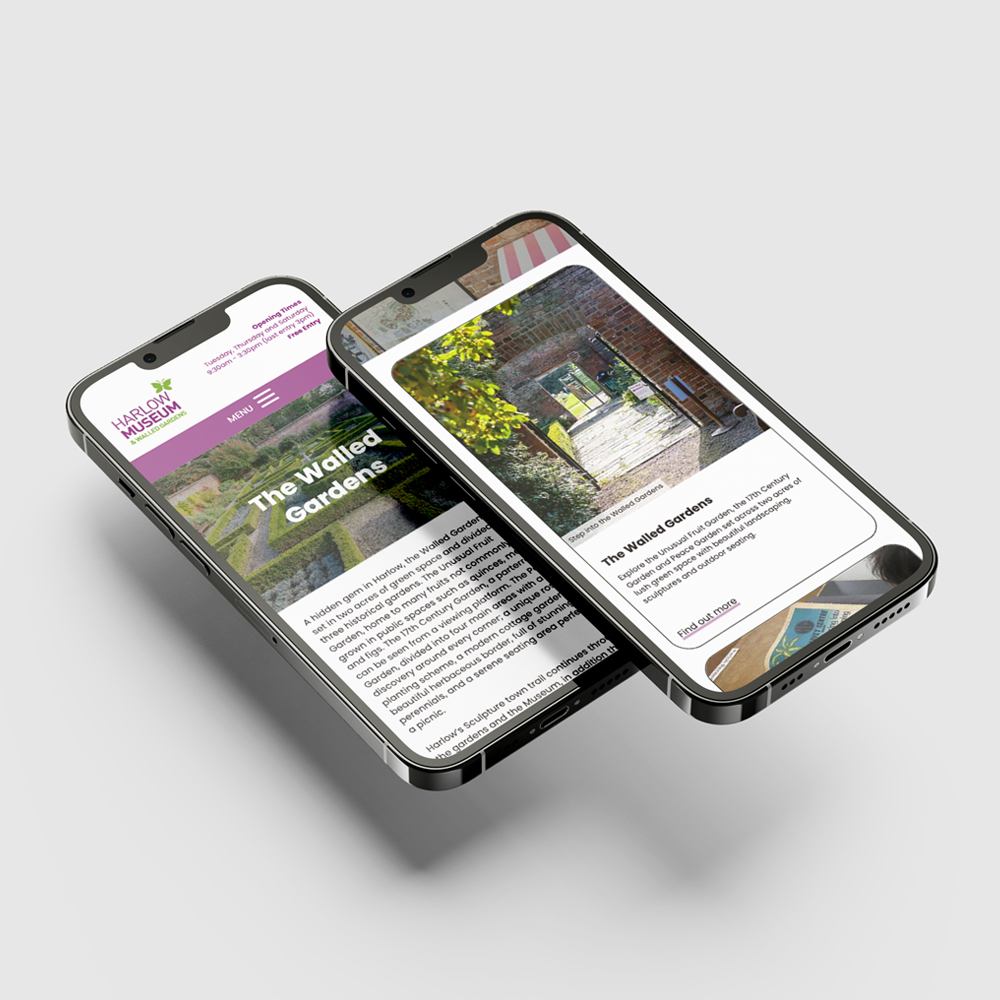 Accessible WordPress development
As the Harlow Museum website would be visited by a variety of people, the user experience needed to cater to a range of digital abilities. We build accessibility into our site designs so that we can create something visually enjoyable while remaining easy to understand and navigate.
Our Development Director, Jon, built a website with a simple navigation menu so users can instantly find the information they want. Taking mobile and tablet browsing into account, Jon ensured that the designs looked great regardless of what device you're browsing from. Most importantly, the custom WordPress CMS allows pages to be added or amended with just a few clicks – so the museum team will be able to keep everything updated for years to come.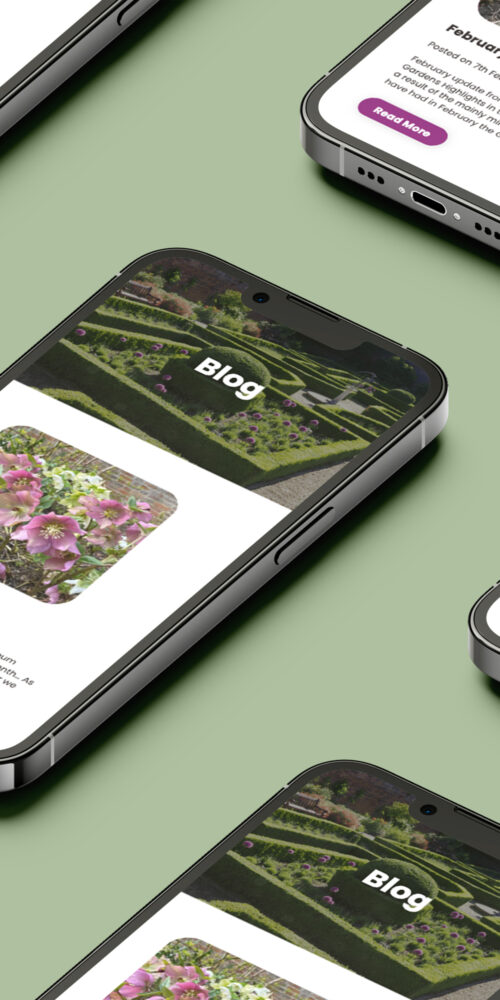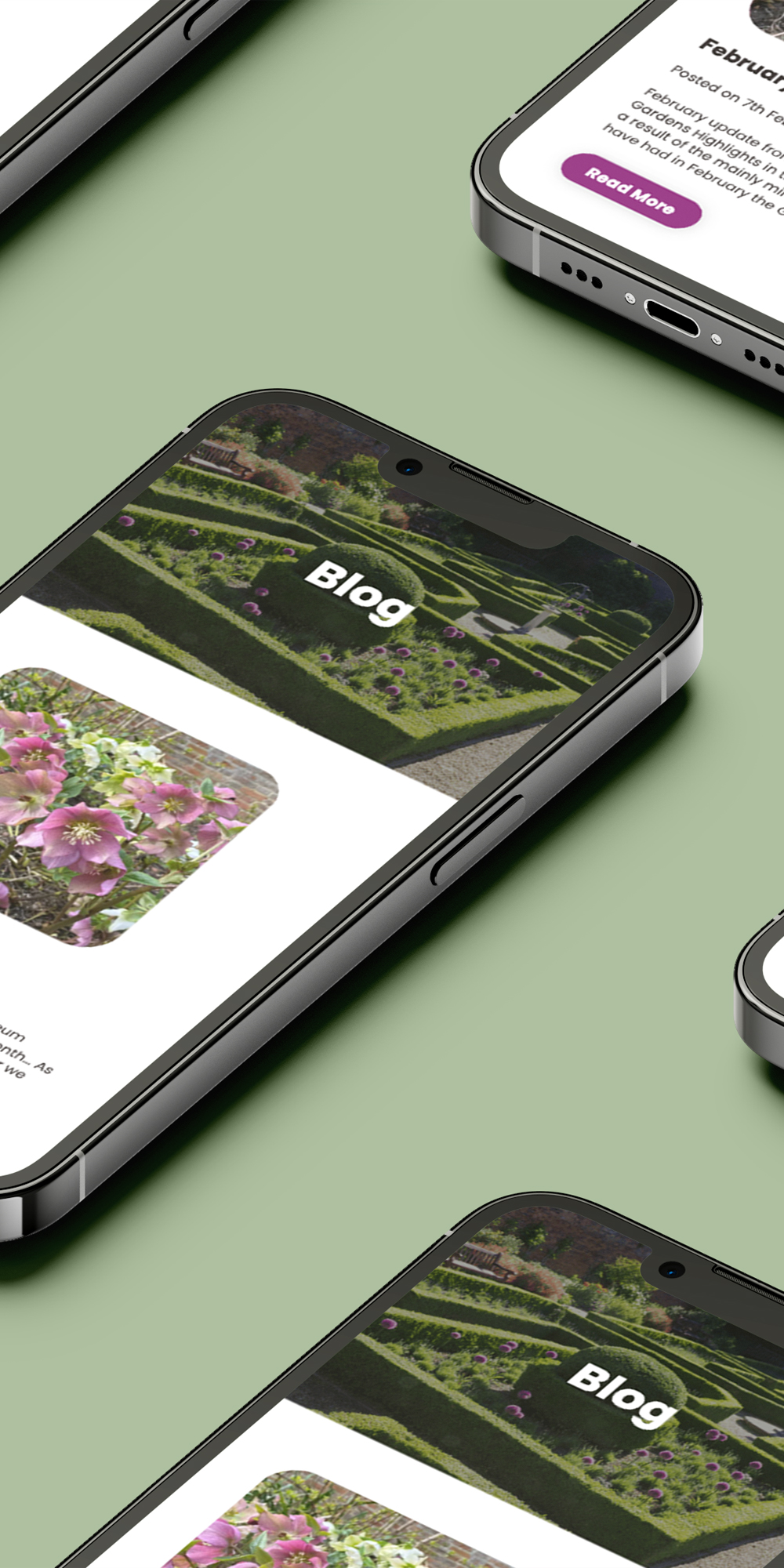 "At the initial stages of considering a new website for Harlow Museum & Walled Gardens it was essential to ensure the site would accurately reflect the unique character of the museum. We wanted the website to be an extension of the museum's rare assets of fascinating local heritage, lush green spaces and town history. Through the help of Splitpixel we have achieved just that.
Our new website truly highlights the museums key features whilst also emanating a family friendly feeling with bright colours and bold imagery which runs parallel with our branding. The site is user friendly and gives users a taste of what to expect from their visit. The backend management system is easy to use and updating web pages is relatively easy. Overall, we are very pleased with the website design and support from the Splitpixel team."
Shannon Hay, Regeneration and Strategic Housing Officer
Harlow Museum & Walled Gardens