About Exeter Northcott Theatre
The Exeter Northcott Theatre is a regional theatre based at the University of Exeter. It has been showcasing incredible productions, musical performances, and stand-up comedy for over fifty years and helped grow the careers of many talented actors and performers such as Imelda Staunton, Diana Rigg, and Celia Imrie.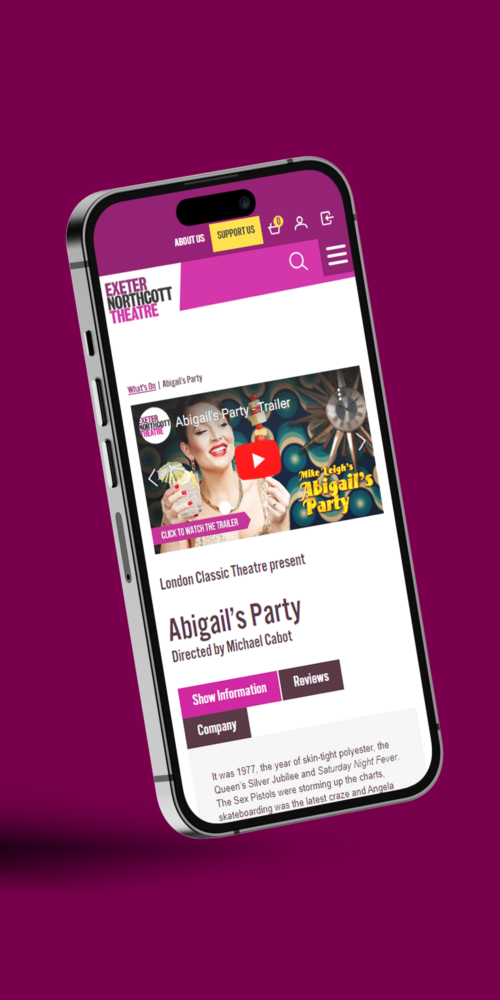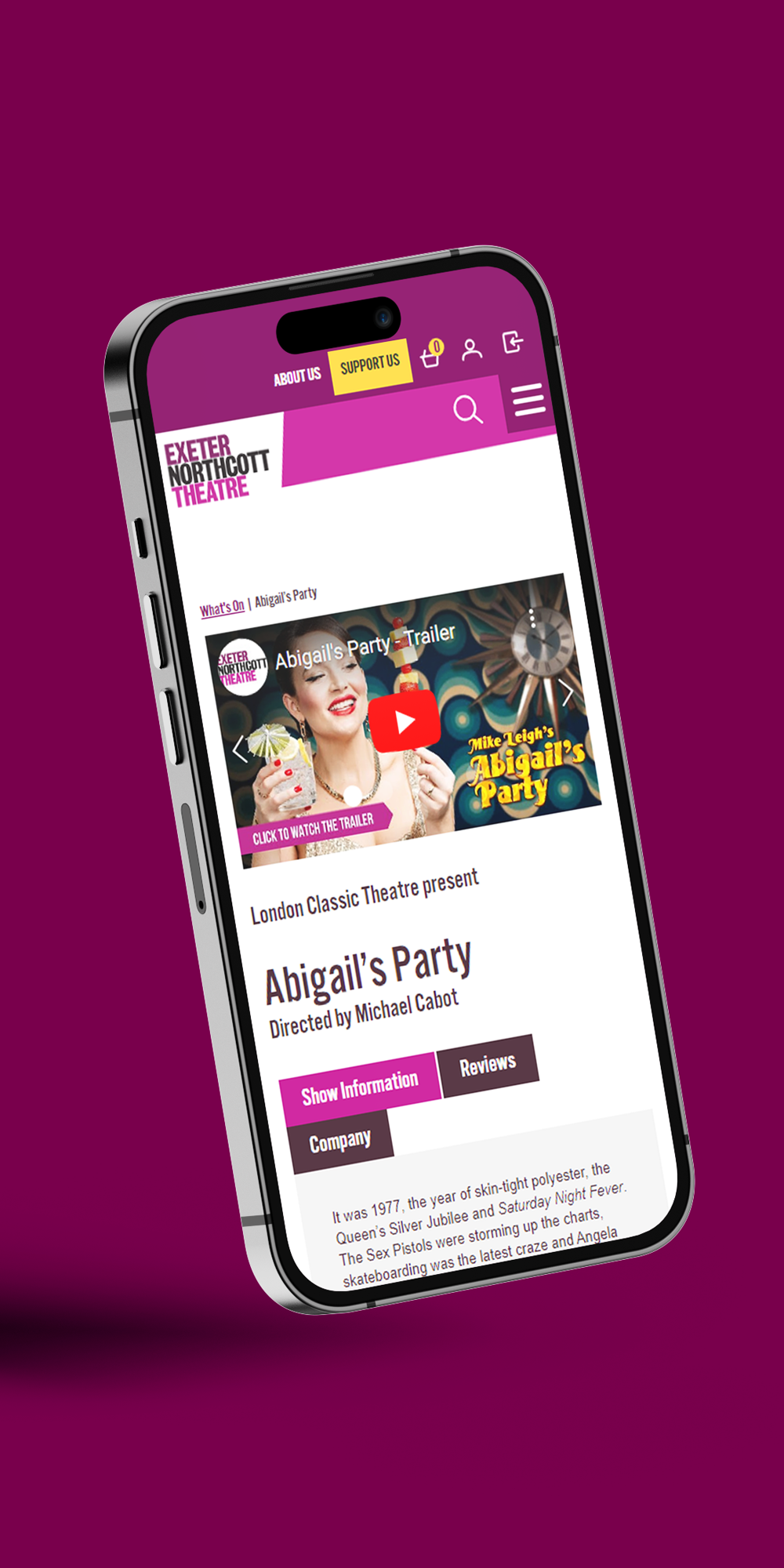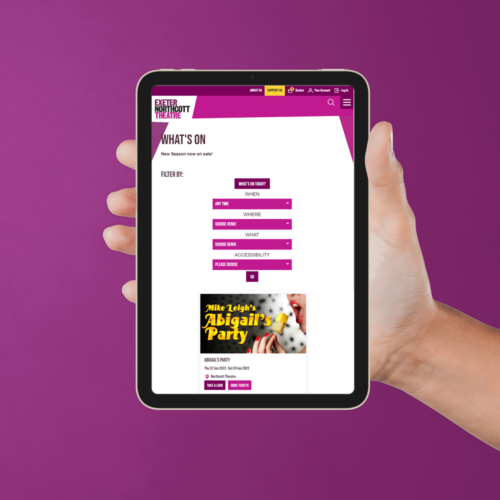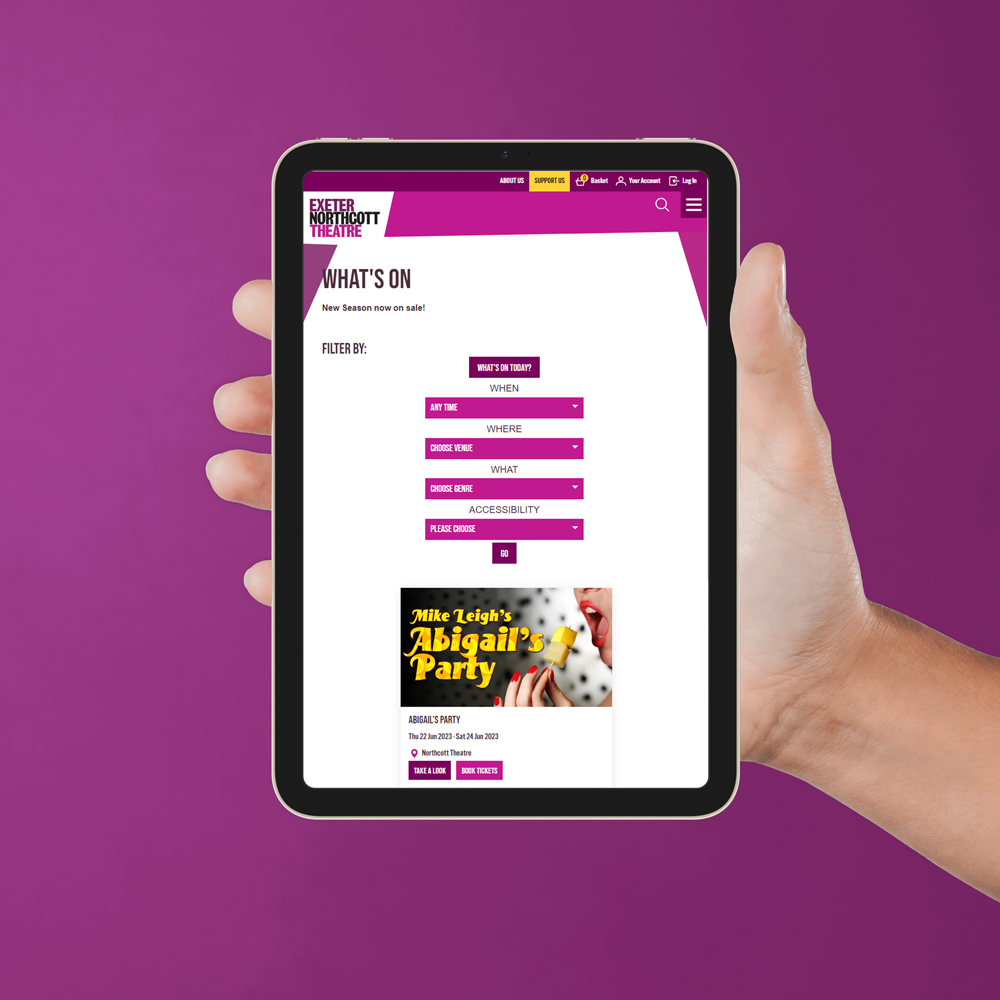 The brief
The team at Exeter Northcott Theatre were looking for a creative bunch to set them up with a beautifully designed, custom website with style and responsiveness that reflected the high quality of their theatre.
They needed a site with a CMS that made things easy to update for their marketing team as the theatre continued to grow and develop. They also needed their historical catalogue of archived productions and blogs carrying over to their new site.
The site needed to be created to AA accessibility standards with Spektrix built into the website for optimum performance and ease-of-use for staff and customers, and that set them up for success from a technical SEO standpoint.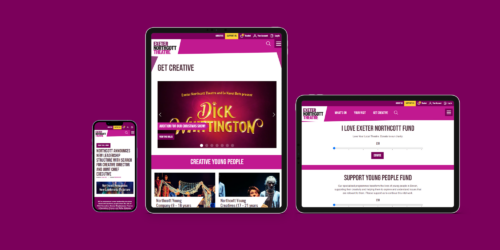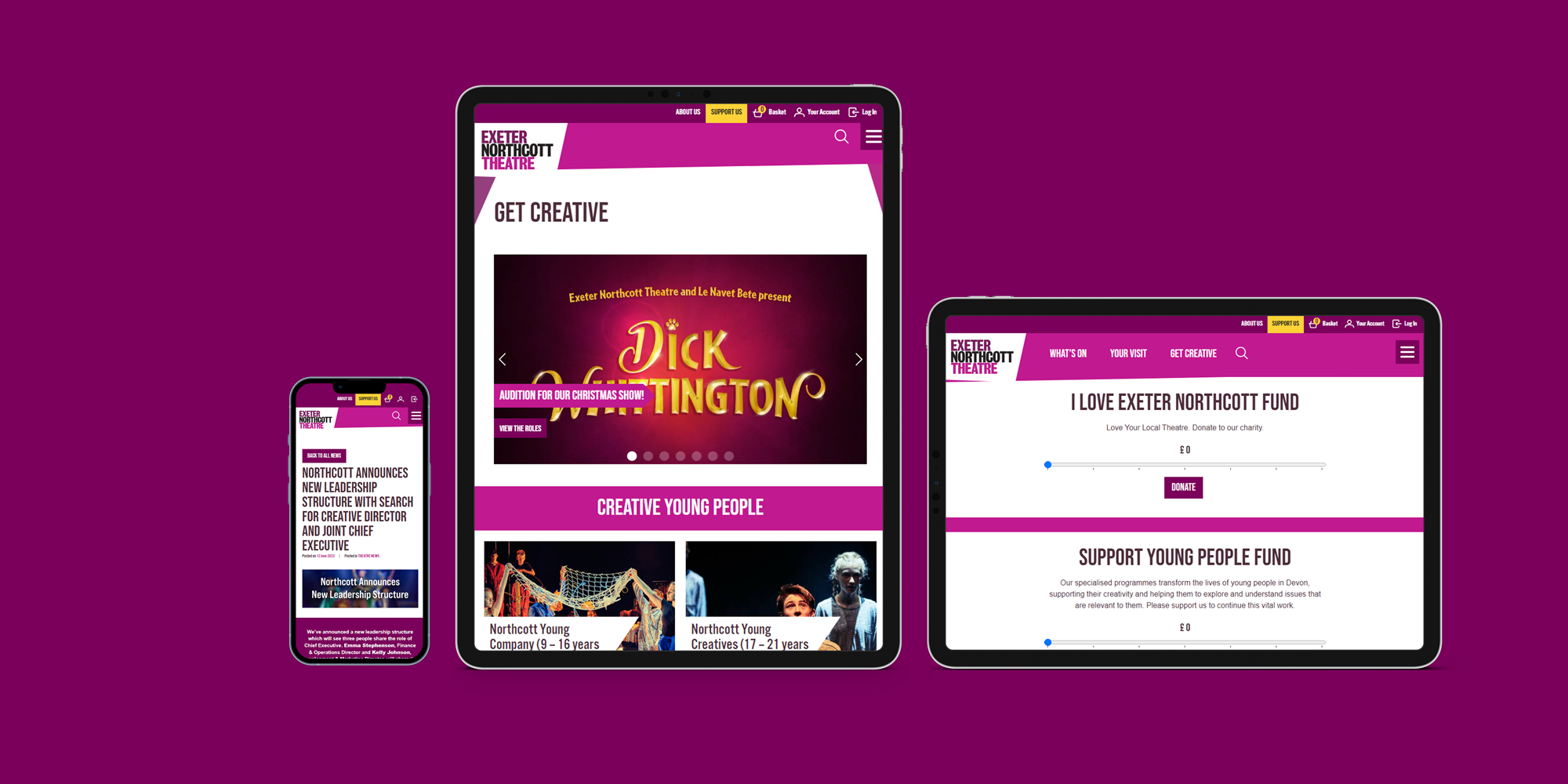 Dynamic, accessible web design
Our designers used a lot of angular and asymmetrical design elements inspired by lush, purple curtains that frame the theatre stage. Combined with a variety of parallax scroll features and hover animations, these really bring the site to life.
The homepage header is designed to be super flexible to allow content from across the site to be pulled through whenever needed. This allows Exeter Northcott to show off a variety of aspects of their theatre in a really easy, succinct way.
The site is also designed to meet AA accessibility standards so it can be enjoyed by guests of all abilities. This accessibility carries over into their events listing which allows for complex filtering across multiple venues and accessibility needs.
Smooth integrations, smooth user journey
Exeter Northcott Theatre wanted to continue using Spektrix and we wanted that to work for them as best as it possibly could. WordPress integrations are a specialism of our team and we've developed a number of theatre websites with Spektrix in the past few years, so our developers are Spektrix specialists by now.
With a well-integrated site and a thoroughly planned bespoke menu, we were able to tailor straightforward, accessible user journeys for the Exeter Northcott Theatre. This means that all the information you could want to find is a few simple clicks away.
The events listing system we set up is Spektrix-integrated but also allows them a lot of freedom to add external events outside Spektrix while offering the same seamless user journey – something that has been incredibly important as the theatre switched to livestreams and online events during the pandemic.
increase in direct traffic users
At nine months post launch!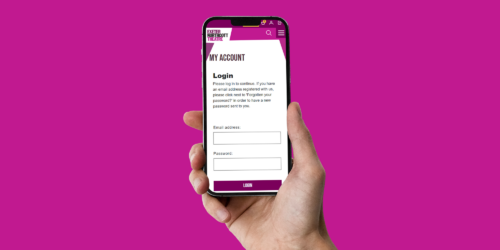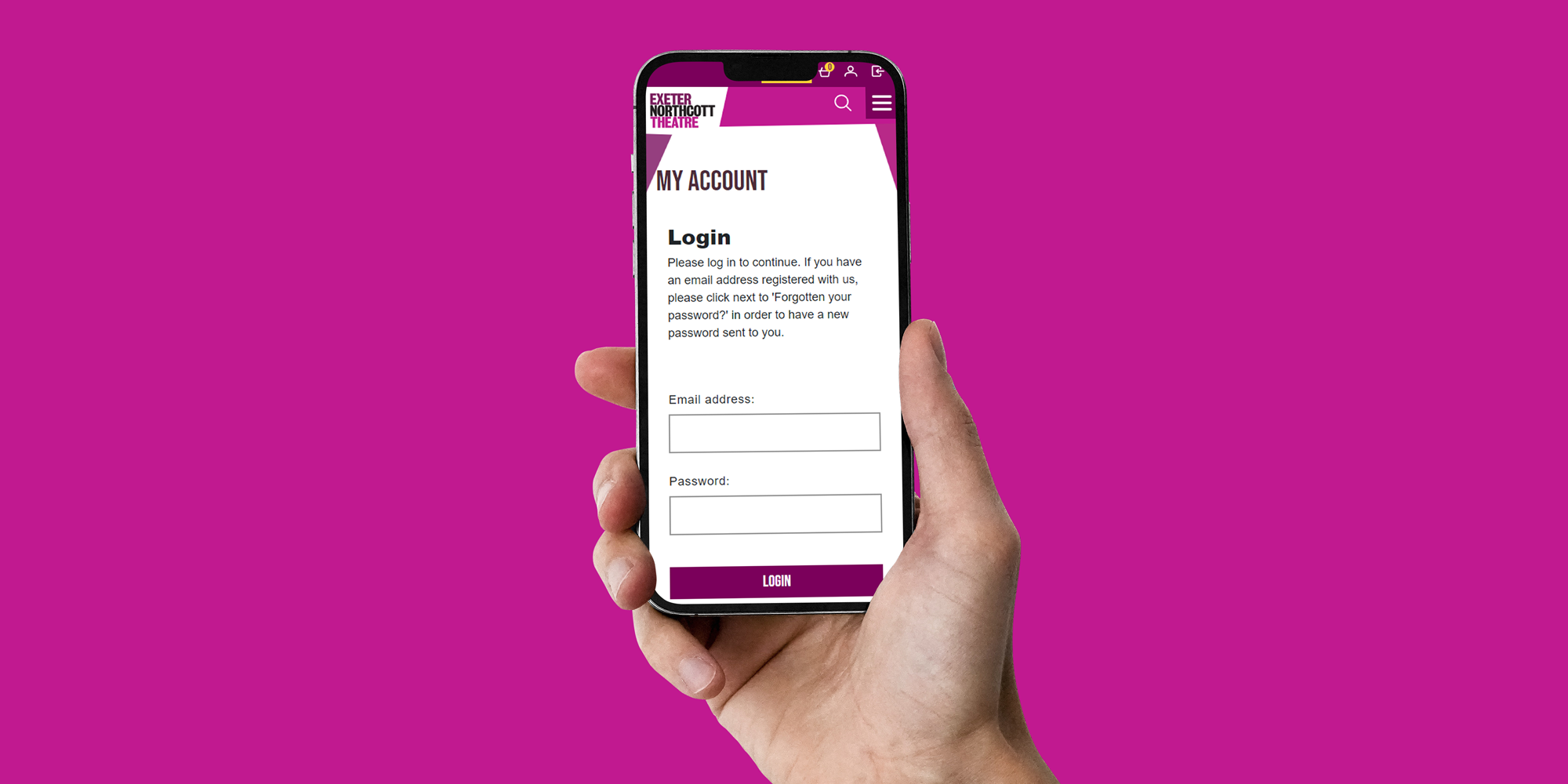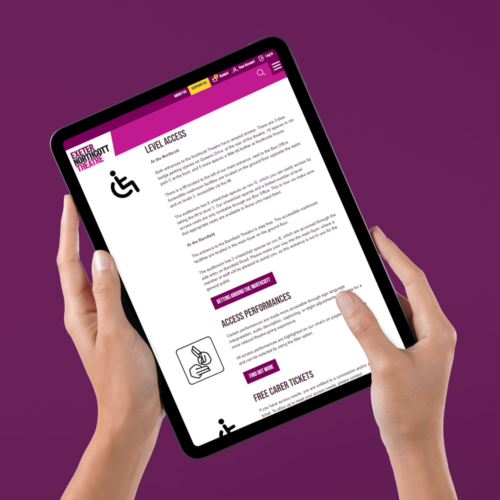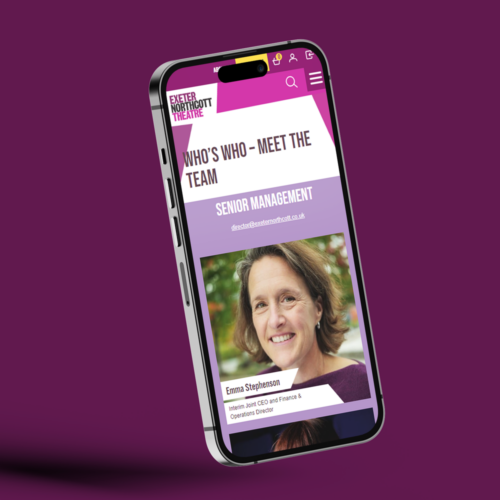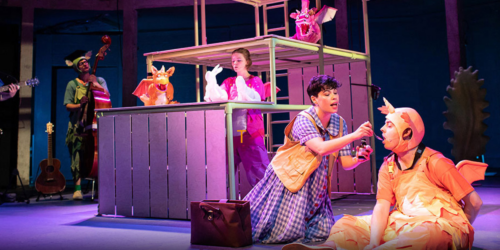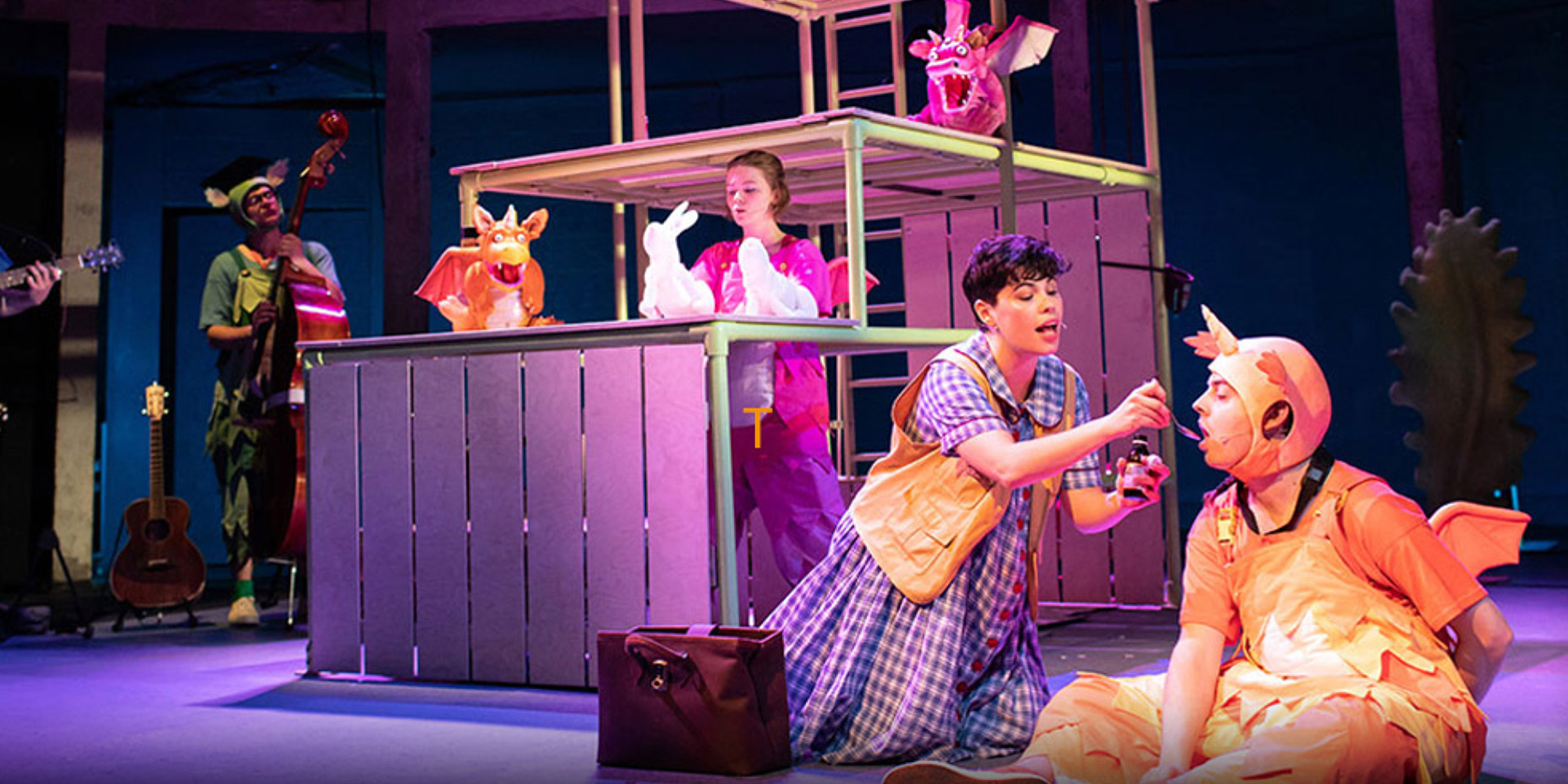 Futureproof WordPress development
The Exeter Northcott Theatre team needed something that, like their half-century-old theatre, would stand the test of time. Our futureproof web build will allow them to easily update their website with new features and designs without having to rebuild everything.
We continue to support the Exeter Northcott team with changes and updates to their website. The fully flexible, modular WordPress site offers them the tools they need to show off all their exciting new productions for years to come with an automatic archive that adds shows once their event date has passed.
At nine months post-launch the website's direct traffic users had risen by 13.6%, average web session improved by 46.4%, goal conversion rate rose by 24.3%, and page views were up by 25.2%.
"The best thing about working with Splitpixel is the collaborative way in which they approach every project and every detail of build and design. Thanks to this open and honest approach and their technical know-how, we were able to get exactly what we were after: the best user experience we could imagine for our customers, while also making it easier and less time-consuming for our team to update the CMS. And this while at the same time allowing us more flexibility and more features than ever before! The smooth integration with our box office system was instrumental in this, and Splitpixel's expertise and experience with Spektrix integration was invaluable. We were really able to push the envelope; no challenge is too big for this team!"
Laura, Marketing Manager
Exeter Northcott Theatre