Our content-slash-project manager Ren talks through what you need to bring to the table, what to expect from your agency, and how to get the website you want.
At Splitpixel, we typically launch between 20 and 30 websites a year. That's quite a lot for our small team of two designers and three web developers, so keeping processes as tight as possible is really important for keeping the studio going, and our clients happy.
It's pretty rare that we miss a deadline (sometimes a global pandemic or something might get in the way…) and I like to think we generally do succeed in keeping our clients pretty happy, so I thought I'd share a few things that can be done to make sure a project is a success.
From the client side
We'll start with what you can do. Not that it's your responsibility to make it work, of course – but I really do believe that, when it comes to a web design and development project, you'll get out what you put in.
What's the point of all this?
That means you need a clear goal for your website. Come to us with an idea of what you specifically want to achieve, and the whole project will have a much stronger focus.
That goal could be as simple as a better showcasing of your brand and products, or it could be as specific as driving more leads from targeted paid advertising, encouraging newsletter signups, filling an appointment diary with survey or quote requests, or boosting product sales.
If you're not totally sure what the goal is, then talk to your agency – ask them what they think your current website could be doing better. You might come away with some new ideas.
What are you doing, and what are we doing?
Some of our clients need the complete web design, development, SEO and content package – others can do various aspects of the project in house.
Copywriting, branding or photography are most commonly kept in-house, or more rarely we might work on a project where design or SEO is handled by the client's team. And that's fine!
We just need to know that, and work out a process for making sure we all get everything done when we need to.
Write a good website brief
A brief is an essential part of a website project, and you'll typically need to write it far in advance of when you first work with an agency, as it's what we'll be quoting off.
So, getting it right is key for getting the right price out of your prospective agencies, and it's also what will form the basis of your agreement with your chosen one.
If you'd like some help with writing a website brief that's tailored to giving agencies exactly what they need to deliver what you want, well, I've got some help for you – just download our web brief eBook. We use it with clients who are struggling to lock down a brief, and it'll help you write something that will give a great starting point to any agency. No judgments if that's not us, honest.
Ask for help when it's needed
We all start with the best of intentions – but sometimes you hit a busy patch and you all of a sudden don't have the time to write the copy or finish the logo designs you committed to. Once again, that's fine!
Just tell your agency what the situation is – you'll probably find they're more than happy to help with getting things finished. Usually because they want to finish the project so they can invoice you and show it off on their portfolio. And make sure you have the website you wanted, of course.
Be honest with your feedback
If you don't like something, tell us! But do try and be constructive, web designers do have feelings.
We're always up for a challenge, and aren't afraid of coming up with something new. Sometimes the best work comes from very little direction. But at the end of the day this is a collaborative process – the most effective site will come from a combination of our expertise and your inside knowledge of your customers.
From your agency
Obviously, the success of a project is more down to the web agency you choose – how they react to your brief, how they work with you, how they handle any problems that arise.
The short answer to the question of what makes a successful project from the agency's point of view is: sticking to deadlines and delivering what was promised.
But there are a few things you can look out for at the pitching stage, or ask for up front once the project has gone ahead, to make sure things are heading in the right direction.
Do they understand you?
When we pitch for a project, we always do some research – and we'll try and go a little bit further than your brief to really get to know how your current website is performing, and what the landscape of your industry looks like.
We research technical solutions ahead of time, so we're coming to you with a plan, not charging you for our time spent figuring things out.
And we specialise. While we work with clients in a huge range of industries, we've slowly come to focus on arts and culture, education and manufacturing sector clients. We know these audiences, these environments.
So we like to think we start a project already understanding a bit of what you're about. Not the whole picture yet, of course, but more than enough to get started on the right foot.
Contact points
Ask your agency for information on who will be your main point of contact, and ask for an introduction ahead of time, too.
For some agencies it'll be an account manager who serves as a go-between for you and the people doing the work. For others it'll be a bit of a free-for-all as you talk to different people at different stages. For others still, it's somewhere in between.
For example, at Splitpixel, you'll usually have one key project manager (usually me!) who will oversee and act as your main point of contact, but will hand off to different members of the team at key points (designer at design stage, developer at developer stage – quite the shock) when more direct communication is important.
Project milestones
Ask for the key project milestones – you may have your own ideas of what these will be, so share them with your agency, and they should make an effort to blend them with their own.
A milestone is a part of the project where approval and sign-off is essential. It may be accompanied by the next project invoice, or be required by a certain date to ensure the overall deadline is hit.
For example, our milestones tend to follow this process:
Agreement of SEO keyword research and site structure
Approval of homepage design
Approval of internal page designs
Build of homepage
Build and population of all pages and content
Launch
Take a closer look
Learn a little bit more about our recent successes in our portfolio section to learn a bit more about how a project with Splitpixel usually goes.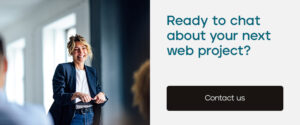 Continue reading...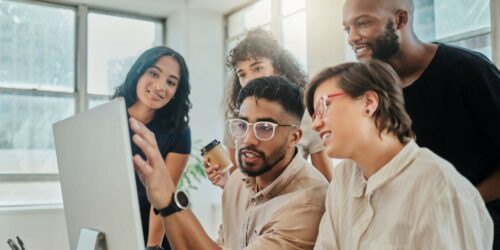 Improving your brand's accessibility 
Accessibility is at the heart of everything we do. As one of our core values, we make it a priority when designing websites and branding.
Sign up to our newsletter